"I don't put a lot of credence in someone saying they have photographs of Josh in a bar," says Johnny Narron, a special assignment coach with the Rangers and Josh Hamilton's "accountability partner" since 2007.
Narron has been at Hamilton's side since their days in Cincinnati (where Narron's brother, Jerry, was the manager). The two bonded over their shared faith, and when Hamilton was traded to the Rangers, Narron followed him. Today, he serves, in Sports Illustrated's words, as a "baseball mentor, personal confidant and chaperone." He is not a babysitter, as Hamilton has pointed out, but he does keep tabs on his charge's whereabouts and stays in an adjoining hotel room on the road.
"I'm with him all the time," Narron says. Which is why Narron doesn't "put a lot of faith" in the photos I've described for him. "He doesn't have to ask me to go anywhere. He tells me where he's going to be."
G/O Media may get a commission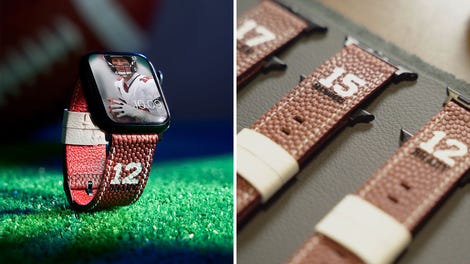 Official NFL PRODUCTS
Official NFL Apple Watch Bands
Narron was with him last spring, during Spring Training in Surprise, Ariz., which lies about 50 miles from Tempe, on the other side of Phoenix. That's where the photos were taken, in March. (UPDATE: The photos were taken in January, according to Hamilton.) I ask if it's possible Hamilton went to any bars there. "Not to my knowledge," Narron says, adding, "He recognizes that addiction to him was all-encompassing — alcohol, drugs." He notes that Hamilton undergoes regular drug tests (he's screened every three days) and "hasn't tested positive."
"I'm sure, in the depths of his drug addiction, he was in a lot of bars," Narron goes on, suggesting that the photos predate Hamilton's recovery or perhaps were doctored. "He was in and out of bars, crackhouses, everything. There are probably photographs of him in all kinds of places."
Narron hasn't seen any evidence of a backslide. We spoke on Friday afternoon. Only the night before, he tells me, Hamilton had gone out with teammates Dustin Nippert, Derek Holland, David Murphy. Upon returning, he popped into Narron's room and announced, "Hey, I'm back."
"I would just be shocked if [the photos] have any validity," Narron says. "He's obviously high-profile. A lot of people are pulling for him, and some people would like to see him fail. There are all types. We deal with the negative comments, take it and move on.
"The young man went through an awful lot. He admitted he made mistakes. He fought his way back from an addiction some people say you cannot overcome. He's tried to do everything he can to work through his faith to do the right thing. He's a very big inspiration to a lot of people. He's attempted to do it the right way, inspire people, be the man, the husband, the father he wants to be. It'd be a shame to see anybody try to tear that down."