Linebacker Junior Galette was shockingly told by the Saints on Friday that he will be released before training camp. Galette signed a new contract last fall, and since New Orleans will have to swallow nearly $18 million of his salary, they must have been truly sick of him. The feeling's mutual; on Saturday Galette hopped on Twitter to air his grievances and make some pretty serious accusations.
The Saints' breaking point was the emergence of a video of Galette hitting a woman with a belt in a Miami Beach fight in early 2013. There was also a domestic violence charge for a separate incident, later dropped. But Galette's relationship with the team had apparently frayed inside the locker room, too.
This Times-Picayune story, citing multiple team sources, functions as the closest thing to a justification for Galette's release. It accuses him of being strongly disliked by coaches and teammates, despite being elected to serve as a team captain. The story alleges a fistfight between Galette and Brandon Deaderick in the locker room before a preseason game last year, along with accusations that Galette became lazy and entitled after receiving a long-term contract extension.
"He stayed focused long enough to get paid," a former teammate said, "then the real Junior came out. Sad."
G/O Media may get a commission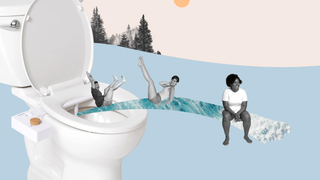 17% off
Tushy 3.0 Warm Water Spa Bidet Attachment
When the Saints informed Galette of his release, he deleted his Twitter account, lest he say anything he might regret. That didn't last a day. On Saturday he hopped onto his girlfriend's Twitter account and laid into the franchise, some former teammates, and head coach Sean Payton.
It's confusing to follow and the account has been deleted (Canal Street Chronicles has a good summary with screenshots), and some of the tweets appear to have been written directly by Galette's girlfriend, but TigerDroppings.com users ghost2most and BigBrod81 compiled this Cliffs Notes guide to Galette's opinions and accusations. It's pretty incredible:
The Payton stuff is especially explosive—though it's not clear whether Galette was parroting some common rumors around the league, or confirming them from his personal observation.
Galette claims he has a handful of offers on the table and will announce his new team tomorrow. That'll give us at least a hint of whether there's any truth to be found in this rant—though I wouldn't be surprised if the rant itself scared off some otherwise interested teams.