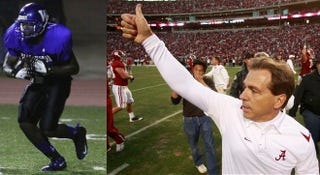 Remember this? When the SEC reduced the annual signing limit from 28 to 25, in order to curb the growing scourge of schools signing more players than they could offer scholarships? And how SEC coaches voted unanimously against the new rule, because it limited their "flexibility," but the rule passed anyway? No sweat off Nick Saban's back. He's got his own lo-fi signing tricks.
Last summer, Saban didn't seem too fazed by the restriction, saying "it's not going to be that much of a management issue for us to be able to continue to create the same number of opportunities for young people and just try to manage it a little better." Here's what he meant:
Justin Taylor, one of Georgia's top projected running backs, committed to Alabama nearly a year ago. He then missed his senior season with a torn ACL, and as Alabama came up against the 25-man signing limit (their 2012 class is ranked number one in the nation by Rivals.com), Taylor became an odd man out. A few weeks ago, Taylor was informed that the Tide would not be able to sign him for this season. But they still want Taylor for 2013, so Saban signed a piece of paper for him to seal it in blood.
Not just any piece of paper, mind you, but — oh wait, yes, just an ordinary piece of paper, probably torn from a half-finished sudoku puzzle. Says Taylor, in an interview today with the Atlanta Journal-Constitution:
"He said he was going to sign me with the next class. But he also said he would sign a piece of paper to show that they are keeping their word – they are going to sign it and they want me to sign it to make sure I know I still have my scholarship ... Coach Saban is going to sign his name on a sheet of paper saying that I still have my scholarship. It was just for me. It's to say they really still want me."
Now that it's official, there's absolutely no way Alabama could ever go back on its word (this is why no one should ever criticize a recruit for pulling out of a verbal commitment). So what's Taylor going to do in the meantime? "They are going to find me a job."
Conspiracy theorist alert, but this is fuzzily legitimate under NCAA bylaws. Rule 13.2.3 governs employment of prospective student athletes, and allows the athletic department to find a job for Taylor "through normal institutional employment procedures (e.g., local newspaper, bulletin board listings)." It does not allow "the intervention of any member of the institution's coaching staff" in the job search, which might be more troublesome. But, please. I think Nick Saban knows enough to keep his distance from Justin Taylor's new job. After all, the man just loopholed the entire oversigning process.
UPDATE: After careful consideration, and more than a little backlash to the Journal-Constitution's interview, Justin Taylor now says he will not sign with Alabama.