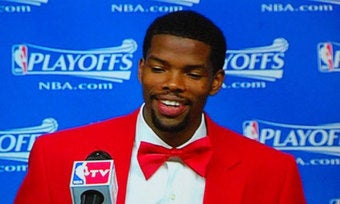 Either the Houston Rockets veterans had a little fun with Aaron Brooks this weekend or he forgot to bring his ventriloquist dummy to the post-game press conference.
As noted yesterday, the Rockets only seem to get better by removing stars from their lineup. Aaron Brooks, whom I'm told is not the former quarterback for the New Orleans Saints, scored 34 points as Houston played its best game of the season without Tracy McGrady or Yao Ming. It was pretty embarrassing for the Lakers. I'm sorry—Phil Jackson doesn't get fucking embarrassed.
Anyway, Brooks says everyone on the team has one of these snazzy red jackets and he was told that wearing them was mandatory, so he decided to take it up a notch with the kick-ass bow tie. Brooks was later taken out back to have his kneecaps broken in order to keep the "lose a player, win a game" strategy rolling.
Aaron Brooks will shred your defense, clear your plates [Ball Don't Lie]
Phil Jackson believed the Rockets should get "****ing" credit [Outside The Boxscore]