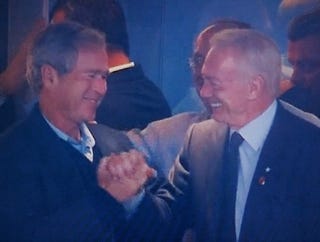 Because no one reads the newspaper, and SportsCenter's anchors are too perky for this early in the morning, Deadspin combs the best of the broadsheets and the blogosphere to bring you everything you need to know to start your day.
•Just who did Jerry Jones have to schmooze to get the Cowboys their first playoff win since Miles Austin was 11 years old? Oh right, him. But that wasn't the only excitable polarizing manchild in the owner's box this year:

•While a Cowboys loss would have set off a federal holiday of schadenfreude, we'll just have to settle for Duke losing to Georgia Tech. Meh, wake me for their inevitable Sweet Sixteen exit.
•Alabama will build a Nick Saban statue on campus, a standard honor for the Crimson Tide's title-winning coaches. So next time you're in Tuscaloosa and you see a life-size representation of the coach that doesn't move a muscle, check to see if it's bronze. If not, it's just the real Nick Saban.
•Remember Gilbert Arenas's ill-advised gun pantomime before Tuesday's game? The Wizards are cracking down on thoughtcrime, fining four players who smiled and laughed at the admittedly funny gesture. The collected fines will go right in to the official team Boo-Ray pot.
•On Thursday's Jay Leno Show, CC Sabathia lost a trivia contest to Denzel Washington, in which two of the answers were "CC Sabathia." This news is a couple days old, sure, but it took this long for our tipster to own up to admitting he watched Leno.
•••••
We're off and running. Two more playoff games on tap today, and it's brutally cold through most of the country, so neither of us are going anywhere.