Imagine if David Ortiz were briefly suspended for doping in the minors, let off after it turned out that he had a convincing excuse, and then suspended again for four years after testing positive in November 2007, just after winning the World Series. Imagine that Papi came back a little rusty, but was outslugging Miguel Cabrera by 2013. Further imagine Ortiz's disgraced manager offering up some insane bullshit accusing a rival club's physical therapist of rubbing steroids into his skin to sabotage him and trigger the positive test, while Ortiz and his lawyers more or less shrugged.
The takes would melt the polar ice caps and end winter, right? In the little world of track and field, this is pretty much exactly what is happening with Justin Gatlin right now.
Gatlin has a bye to the world championships in the 100 meters thanks to winning the Diamond Race last summer, and he's heavily favored to win the 200 at this weekend's U.S. national championships/worlds trials. An American male sprinter hasn't won a gold medal in the 100 or the 200 at the world championships or Olympics since 2007, and the Gatlinaissance represents our best chance at ending that drought.
This pisses lots of people off. Here's how we got to that point.
---
The summer after Gatlin's freshman year of college, way back in 2001, he tested positive for amphetamines at the U.S. junior championships. He avoided punishment by claiming that he had a prescription for Ritalin and simply didn't file the correct paperwork. The IAAF—the international governing body for track & field—let him off with less than a slap on the wrist.

G/O Media may get a commission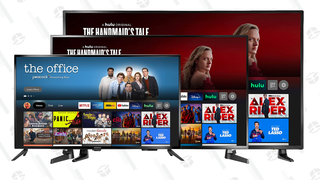 Up to 44% off
Prime Early Access - Insignia Fire TVs
Gatlin's next five years were among the best ever by a male sprinter. He dominated the college ranks and turned pro after his sophomore year at Tennessee. He won the 100 meters at the 2004 Olympics; at the 2005 world championships, he won both the 100 and the 200; and in 2006, he ran the 100 in 9.77 seconds, tying the world record.
That year, he also failed a drug test. In one of the more bizarre sports scandals of the last decade, Gatlin's BALCO-linked coach Trevor Graham claimed that massage therapist Chris Whetstine had rubbed testosterone cream into Gatlin's legs in Kansas in an attempt to sabotage Gatlin, Graham, and Nike, Gatlin's sponsor. Gatlin produced the offending sample at the Kansas Relays in April and the result was announced in July. In the interim, Nike employee Llewellyn Starks, who likely knew that the announcement was coming, literally beat the shit out of Whetstine at the U.S. championships, breaking Whetstine's nose and dislocating his thumb.
There are really just two things you need to know. First, Gatlin was guilty as hell. There was no chicanery with sample testing or chain of custody, and Gatlin and his lawyers accepted the validity of the test. (Not only did they admit that Gatlin had the testosterone in his system, they plea bargained down from an eight-year ban by literally having Gatlin wear a wire.) Second, no one other than Trevor Graham—flailing in the face of the lifetime ban that he would eventually receive—has ever pinned the positive test on the massage therapist.
There's a nuance in that second point worth noting. When anti-doping crusader Weldon Johnson asked Gatlin last month if he was sticking to the story about how the evil massage therapist did it, Gatlin dealt out a pretty good burn, asking, "Are you a history major?"
Among people who follow such things, this was an instantly legendary bit of doping denial, the individual-sport analog to "I'm not here to talk about the past." (Unfortunately for Gatlin, by the way, the writer he hit with the burn actually was a history major at Yale.) It was a pretty carefully stated one, though. Gatlin isn't saying Who cares about that shit, it happened forever ago, and the only people who care about old things are nerds. He's saying Read the documents—I never said that Chris Whetstine definitely did it. Only Trevor Graham said that. All I said was that the cream in Kansas felt different, and that we were trying to fire Chris for seeking more money, so maybe that's how that testosterone got in me. But maybe you're not a history major.
Justin Gatlin, 2013. Photo via Getty

---
When Gatlin came back in 2010 and 2011, he was positively rusty. He failed to break 10 seconds in the 100 in 2010 and couldn't make it out of the semifinals at the world championships in 2011. Over the next two years, he stepped up his game significantly, finishing as the third fastest man in the world at the London Olympics and second at the worlds in Moscow a year later.

Both years, though, Usain Bolt insulated Gatlin from criticism, even as the latter was becoming one of the fastest 30-year-olds in world history. As long as Gatlin wasn't winning anything and Bolt seemed unbeatable, no one really cared. Even the brands were content to ignore Gatlin, who bounced around between obscure companies.
That all started to change last year. Gatlin ran faster than ever in the 200 and fast as hell in the 100. His 19.68 200 last July, at age 32, was his all-time best in the distance and made him the ninth fastest man in the history of the event. This year, he has topped even his drug-disallowed then-world record in the 100, running 9.74 in Doha, and then followed on by breaking a Usain Bolt meet record in Rome with a 9.75.
Bolt barely raced last summer, and has really sucked this year. Perhaps because of this, rather than raging against Gatlin's ascension to the top of the mountain, two of the most powerful institutions in track have provided sherpas. After an initial shitfit where Gatlin was informally banned from the best and richest European meets, he's been mostly permitted to hit the circuit. And after four years of competing for ragtag outfits like Xtep, Gatlin signed a big fat deal with Nike in March.
The confluence of those three things—Bolt sucking, the Euro meets letting Gatlin race, and the Nike deal—has led to one of the all-time great tightenings of assholes. One newspaper headline bleated "Sorry Seems to be the Hardest Word for Gatlin." A relatively well-known Olympic site, albeit one run by a bootlicking pro-FIFA fascist, ran a post titled "Can Justin Gatlin be a Hero?" Outside magazine headed an article advocating for life-long bans for drug cheats ("The athlete who plays by the rules, and who for too long has been paying for the sins of the cheat, deserves nothing less") with a picture of Gatlin. Deadspin's own normally great Sarah Barker has cast heavy aspersions on Gatlin. Hell, when I met him for the first time last summer at a track meet in Switzerland, I couldn't resist taking a smarmy potshot in our post-race interview. After a few perfunctory "talk about" questions, I thought I was being cute when I asked him if he thought sprinting was generally clean. His response caught me a little off guard. Essentially, yeah, he does. Why? Well, guys like him keep getting caught.
---
The sanctimony that Gatlin has awoken in his sport cannot be overstated, and it isn't just the press. Gatlin wasn't a finalist for the male IAAF Athlete of the Year award last year despite a resume certainly deserving of consideration; respected statisticians are occasionally just pretending that Gatlin doesn't exist; and Chris Derrick, one of the most thoughtful runners in the game, unironically tweeted re: Gatlin that, "There can be no redemption without contrition."

Which side of that equation are you rooting for? Did you root for the nun ringing the bell behind Cersei Lannister?
Justin Gatlin, 2012. Photo via Getty

---
If Gatlin is still on his game in 2016, with a chance to not only stand between Bolt and an unprecedented third straight Olympic gold medal in the 100, but make some history of his own by winning two Oly golds 12 years apart, the shit is going to really hit the fan. The high horses will be galloping across the plains, and you shouldn't mount them. If nothing else, consider that hand-wringing isn't so much about whether track is clean as whether it's perceived to be clean.

Unlike what trackheads call stick-and-ball sports, the illusion of "clean sport"—and those are scare quotes you could break your fingers doing—is vital to the branding of track & field. As sports scientist Ross Tucker put it, the Gatlinaissance is "the definition of a PR problem for a sport that already has a trust issue." In other words: any agita Gatlin provokes isn't about the integrity of the sport; it's about public relations. His lack of apologies and failure to cut a "WHAT ARE YOU ON?" commercial makes him a shitty hype man.
I'd submit that generally, failure to skillfully do public-relations work is not a good reason to root against an athlete.
Someone who doesn't really follow track—i.e. most Americans—might be able to identify two parties at this weekend's U.S. championships. The first is Gatlin. The second is Alberto Salazar's Nike Oregon Project; both have crossed over into mainstream-ish notoriety in large part thanks to feverishly reported, and frequently accurate, drug accusations.
As a hardcore fan of the sport, this sucks. But it doesn't suck because dirty scary cheaters are hogging the spotlight. It sucks because the track media in the United States and the mainstream press in Britain are energetically participating in a branding exercise.
The incredibly in-depth reporting by David Epstein and subsequent epic response from Salazar are perhaps the perfect illustration of how "clean sport" is fundamentally about perception. Epstein's article—though tremendously entertaining, well-reported, and a worthwhile glimpse into the Oregon Project—contains zero substantive allegations of outright cheating. He portrays Salazar as essentially the Rick James of track and field, an egomaniacal habitual line-stepper. But in another sport, engaged in a less militant pursuit of PEDs, the allegations made in the article would barely make a ripple. The most serious accusations levied against him involve gaming therapeutic use exemptions (a free pass to take steroid-laden asthma meds, essentially), possessing testosterone gel, and using said gel on his sons.
In his response, Salazar admitted to running testosterone gel experiments on his sons. While that may make him a terrible father, that doesn't make him a cheater. In a neat bit of symmetry, though, he writes that he wanted to conduct the experiments to test the plausibility of Gatlin's legendary "the masseuse did it" excuse. Anyway, he covered the most unethical thing described by Epstein—shitty parenting—in about 900 words. Rather than leaving it there, though, Salazar, at the presumably heavy prodding of Nike lawyers, wrote 10,000 more words justifying why this mildly helpful supplement had a legitimate medical excuse and why that mildly assholish behavior was justified.
Salazar and Nike go hand in hand. Nike is the major patron of the sport in this country, and there's a building on their campus named after Salazar. Because Salazar and the OP are an integral part of their marketing strategy, the Swoosh needed him to write that massive term paper.
Gatlin, though he's sponsored by Nike, hasn't appeared in any of their commercials since rejoining them this year. (Mo Farah, Galen Rupp, and several other runners coached by Salazar have been in multiple Nike spots.) Their sponsorship of him appears mostly designed to tweak their rivals at Puma and Adidas, who have dominated global sprinting since Bolt's emergence in 2008. They don't care about how Gatlin is branded; that's probably why you haven't seen some 11,000 word schlongread from Gatlin or his lawyers.
And why would Justin Gatlin deign to deal with that stupid shit? What would be accomplished? His silence on the topic has continued at this weekend's championships, and I hope it continues forever.
Eventually, we'll look back on the lack of comment with relief. People who are thirsting for his apologies or unequivocal defense are basically demanding that he give track's version of the infamous (and now regretted) Lance Armstrong on the Champs-Élysées speech, as if hearing Justin Gatlin say, "I am clean, we are all clean, anyone can be this good if they work hard enough" would fix everything. We'd all be better off if Gatlin instead quoted Steve Kerr:
"Sorry, but I don't think they hand you the trophy based on morality. They give it to you if you win. So sorry about that."
The dry-ass contemptuousness of that "sorry" is the only tone Gatlin should ever use when uttering the word.
---
Dennis Young is a writer living in New Orleans. You can email or tweet him, if you want. Top photo via Getty