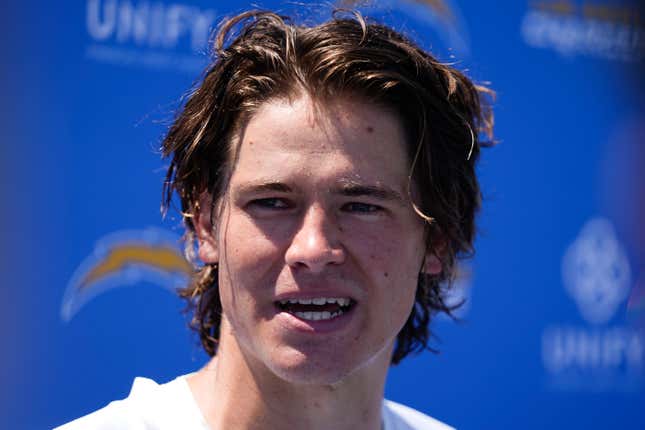 Like Jaylen Brown of the Boston Celtics on Tuesday, Los Angeles Chargers quarterback Justin Herbert became the highest-paid player in his league, inking a five-year $262.5 million extension with the team. The initial takeaway is largely the same even if the metrics by which they're measured are different.
Blame Robert Saleh for the New York Jets' collapse
For Brown, it's title or bust; for Herbert, it's a playoff run or bust; but the pressure is allegedly on for both of them. The difference is Herbert has been more or less immune to criticism from fans and pundits, because the Chargers are notorious choke artists, they don't have fans, and he's not a Black guy in Boston.
Regardless of the deal, and the expectations that come with it, Herbert isn't going to feel the watchful ire of Mass-holes claiming he's not worth the money. Additionally, NFL contracts aren't scrutinized the same way NBA iterations are, because the average Joe, or sportswriter, doesn't understand them, and we're told every player outside of the quarterback is replaceable.
The Los Angeles Rams repeatedly went all-in on deals, free agents, and trades to win a Super Bowl a couple of seasons ago, and they don't completely feel like the Cleveland Cavaliers, or Miami Heat post LeBron James. As it pertains to the Chargers, no one can point to a supporting cast being yet disserviced by its QB's bank account — other than Austin Ekeler, and he's a running back, so he's not supposed to get paid either.
Brandon Staley, the pain sponge
Calling the Chargers head coach embattled is putting it as lightly as possible. He should've been gone after his team's epic 31-30 collapse to the Jacksonville Jaguars in last year's Wild Card game, but owner Dean Spanos is as infamous for being cheap as his team is for gagging, and he didn't want to replace a guy who's clearly hindering LA's potential.
Until Staley is ousted, he'll remain the main reason for any potential failings, and this is Brandon Staley, and the Chargers we're talking about, so there will be failings. When you watch Los Angeles blow games, none of it seems as if it's overtly Herbert's fault, because he's actually a good to great quarterback.
Instead, critics check the box score, see that his numbers were serviceable, if not flat-out amazing, and spread the blame around like a well-made PBJ. If the Chargers were only a QB1 away from contending, then we'd see his play get nitpicked more often.
No, either Mike Williams is injured, Staley put him in a meaningless game in which he got hurt, the defense sucks, the kicker has the yips, or some other fluke occurs that leaves people stupefied. Herbert is not Zach Wilson on the 2022 New York Jets, or any number of Chicago Bears signal callers who've derailed so many solid teams in the Windy City.
If Chargers fans existed, I'm guessing most of them would be adamant Herbert defenders, and absolutely terrified of him coming to the realization he's playing for a second-rate franchise that honestly doesn't deserve him.
There will be Justin Herbert detractors, because First Take isn't a serious show. However, logic and common sense should bear out that the shortcomings of the Los Angeles Chargers are indeed a group effort.