It's a morning to unreservedly celebrate Justin Tucker, because how often do we get the chance? How rarely is the kicker the one proudly jogging off the field with his helmet held high? Tucker—who appears to have wrestled the "Legatron" nickname away from Greg Zuerlein—accounted for all of the Ravens' points, including a 61-yarder with 38 seconds remaining to keep Baltimore in the playoff picture.
The Ravens' offense couldn't find the end zone, and that's concerning, but the worry can wait until our field goal intoxication subsides. With kicks good from (in order) 29, 24, 32, 49, 53, and 61, the 24-year-old Tucker has announced himself as perhaps the NFL's best. He's now made 33 straight dating back to Week 2, the longest current streak in the league. That's the sort of track record that makes a coach do crazy things—like run the ball on 3rd and 10 from the 45 to gain a couple extra yards for a game-winning kick.
Tucker said as soon as the Ravens crossed midfield, he sidled over to John Harbaugh and made sure to be in his line of sight. He had hit the crossbar from 70 in warmups, and "wanted [Harbaugh] to know, just by looking at me, that he shouldn't have any reservations about sending me out there."
Harbaugh said Tucker basically made the choice for him:
"He told me when we got the ball, I think at the 45-yard line, I said, 'hey, are we kicking this?' or should I go for it on fourth-and-10? And he said, "I got it." He kind of ordered me to kick it. So we got him two more yards."
G/O Media may get a commission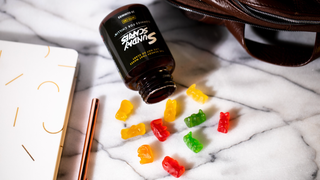 10mg CBD Gummies (22-Count)
Here's what it looked like from the stands. Anticipation, denial, dejection:
And the view from a Ravens fan's seat, complete with disbelieving Lions fan reactions:
How about a little historical perspective?
Tucker made field goals from 20-something, 30-something, 40-something, 50-something, and 60-something, an NFL record that may someday be equaled, but will almost certainly never be surpassed.
His 61-yarder is the longest FG in Ravens history, and his six are a team record.
His winner tied for the longest field goal ever in a domed stadium.
His was the third-longest go-ahead field goal in the last minute of a game in the history of the sport. Ahead of him are Matt Bryant's 62-yarder to beat the Eagles in 2006, and Tom Dempsey's 63-yarder in 1970—which also came against Detroit.
The victory means that if the Ravens win out, they'll be in the playoffs. But after the game, Tucker acknowledged that his night might have been just as big for fantasy teams around the country. His 23 points in standard scoring no doubt swung many a semifinal match-up (like that of NFL.com writer Mike Silver's son, who came into the night trailing by 22), and the highest-scoring fantasy kicker over the whole of the season gave a shout-out to all his owners.
"I'm glad I could come through, of course, for my reality team as well as for my fantasy owners. Thank you for picking me up, it means a lot to me. And hopefully I can continue to contribute to the successes of your respective teams."
Amazing. We are through the looking glass, where a professional athlete refers to his team as his "reality team" to differentiate it from fantasy, and a kicker is a conquering hero. It's no one's platonic ideal of football, but for one game we'll happily take the odd over the orthodox.