Every morning, the fine folks at Sports Radio Interviews sift through the a.m. drive-time chatter to bring you the best interviews with coaches, players, and personalities across the sports landscape. Today: Francisco Rodriguez doesn't want to talk about the past.
Francisco Rodriguez joined WFAN in New York with Joe and Evan to discuss where he is mentally heading into this season after all the off the field issues last season, did he think his Mets tenure was over at the end of last year, does he feel like he has to be a choir boy this season because the attention will be on him, is his thumb fully healed and is he concerned about being booed on his first appearance this year from Mets fans.
Where are you now coming off all the issues last season? Where are you mentally heading into spring training?
"Of course and just you know it was a very unfortunate situation I put myself into, which I totally regret you know. It's something I had to learn for my life and try to take the positive things out of it and learn from that. You just gotta move on. Hopefully go out there this year and help this ball club once again to be in the postseason."
Did you think that your Mets tenure was over at the end of last year?
"Well you know at that time everything was confusing. I didn't even know what to think or do at that time. At that time heal in the process and just after a couple of months of everything starting clearing off a little bit. Things started getting back on track. I knew the front office was going to give me the opportunity to once again be part of the 2011 New York Mets team, so early yeah I was really confused probably. You know counting my days out of New York, but we think this second opportunity, second chance the front office has given me, I just want to go out there and once again earn that respect from the fans, earn the positive atmosphere from them and hopefully do the best I can do out there on the field. Try to close out as many games as I can."
Do you feel like you have to be a choir boy this season because the attention will be on you due to last years issues?
"Not really. What I'm trying to do is be the same and just keep people out. I think that's the only way I can earn that respect and earn the confidence once again from the fans. The only thing I would worry about obviously stay healthy and save ball games. What happened last year it was a shame, very unfortunate, but I gotta learn from that. Try to be a better person and just put that behind me and go out there and do the best that I can."
G/O Media may get a commission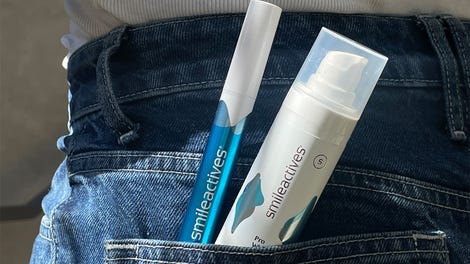 58% off
Whitening Powerhouse Pen & Gel Duo
The thumb is fully healed? Any problems with it?
"Yeah. Totally, totally. Totally strong. I haven't felt any discomfort since that surgery, which is good."
Are you concerned about hearing boos when you come out for that first appearance this season for the Mets given what happened last year?
"Not at all. I mean like you said when you are doing something bad they [Mets fans] will let you know, which I'm good with that, but I think that's going to be you broke these rules you pay the consequences. Those boos are going to be part of my action last year, but I can't control that. Everything I can do to win, once again trust and win the confidence of getting people out. That's the only thing that I have to worry about."
This post, written by Steven Cuce, appears courtesy of Sports Radio Interviews. For the complete highlights of the interview, as well as audio, click here.
More from Sports Radio Interviews
• Phil Jackson says the answer to the Lakers' woes isn't Luke Walton.
• Pete Rose is more than happy to talk baseball. Just baseball.
• Irina Shayk doesn't talk sports, but that's ok, that's not really her job.