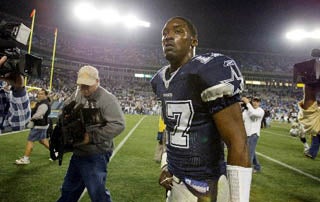 He's not exactly back in the NFL, but the Kansas City Brigade of the Arena Football League is a start. And believe it or not, that's a step up for the former Dallas Cowboys quartertback Quincy Carter, who was last seen playing for the Bossier-Shreveport BattleWings of the af2. After joining the Brigade last week as the backup to D. Bryant, Carter on Monday was named the starter for Sunday's tussle with the Arizona Rattlers. Adjust your AFL Fantasy League rosters accordingly.
Carter's relatively rapid rise up the depth chart (he was activated for his first game last week) comes on the heels of the Brigade's 52-47 defeat at the hands of the division-leading Chicago Rush that dropped its record to 3-10.
Possibly the only man to have played for a major college, the NFL, AFL, af2, the Canadian Football League and been drafted in the majors (Chicago Cubs), Carter's career was derailed by drug use, including an arrest for marijuana possession in Louisiana in October of 1997. It was there that he hooked up with former Cowboy Hollywood Henderson — who's had his own battles with drugs — who is counseling Carter and trying to guide him toward a possible NFL comeback.
"He surrendered, man," Henderson recently told the Kansas City Star of the meeting with Carter. "He said, 'Tell me what you want me to do.' It choked me up. I knew I had to help this man."
Best of luck to Mr. Carter, whom I fully expect to see in a 49ers jersey by October.
Quincy Carter 'Living Life Day-To-Day Now' [Atlanta Journal-Constitution]
Quincy Carter Hits Bottom Again [Deadspin]
Brigade Names Quincy Carter As New Starting Quarterback [Kansas City Star]