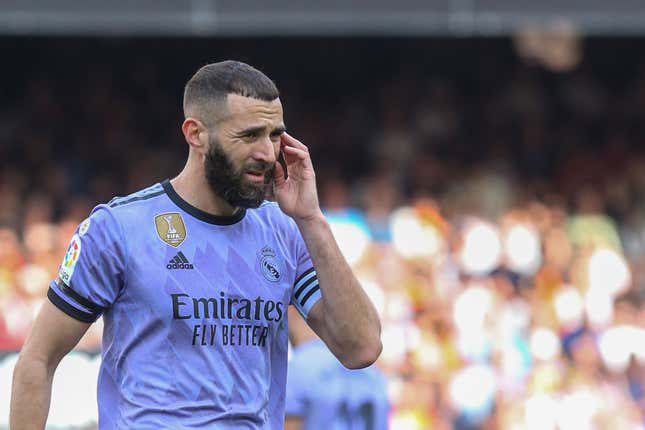 And people thought MLS was a retirement league.
Karim Benzema, whose majestical powers as a #9 really only started to wane a touch this season — he is the reigning Ballon D'Or winner after all — is reportedly set to take a huge offer from Saudi Arabia to leave Real Madrid after the season concludes this weekend. The details of the offer are quite something, as they don't come from a specific team. Reportedly, Benzema can choose whom he'd like to play for, will pay no taxes, will keep 100 percent of his image rights, and be paid $100 million a year for two seasons. Not bad work if you can get it.
Or is it? It is an insane amount of money, and you'd be hard-pressed to find too many people with the willpower to turn it down. Certainly, Benzema's time at Madrid would probably have only lasted one more season at most (he's 35), and after that, he would either be looking at dropping to a mid-table Spanish side or going back home to France in the non-PSG division. And nowhere would he be making anything close to $200 million for two seasons.
The last part of the offer, being an ambassador for Saudi Arabia's World Cup bid, is what kind of sticks in the craw. We just learned what a shitshow it was having the World Cup in Qatar and all the atrocities FIFA gave license to for that country to prepare and host the tournament. And that's before you get to the much less important but still noticeable mess of having to move the tournament to the winter again. Things would be no different in Saudi Arabia, who don't have any more warm feelings for migrant workers or women or the LGTBQ+ community or journalists, as it turns out.
And yet, Benzema, for a price, is willing to stand in front of everyone to tell them what a great host Saudi Arabia would be, and that there won't be any problems. No one thinks the waters run too deep with Benzema, as this is the guy who went on trial for trying to blackmail one of his international teammates over a sex tape. What little soul he may or may not have clearly has a price.
And yet beyond handing Benzema an ocean liner of cash, it's hard to know what else is accomplished. There's been the pox of "sportswashing" on the scene for a while now, but it's hard to figure out what it's washing. Everyone knows the blood that these regimes in the Middle East are soaked in and the havoc they've caused in places such as Yemen. We also know they have more money than we all can possibly conceive of. And we know all of our governments are basically beholden to them as long as everyone's economy runs on oil and fossil fuels. They basically remain a tourist destination for the ultra-rich and no one else, because no one else can afford to go there. It's all in stasis.
But the money makes it so no one has to care. LIV golfers are laughingstocks amongst golf fans and are seen as easily bought, soulless robots. But they are being paid enough to not care, and certainly, there's always a level of money where one can live without the esteem of people they'll never meet. No one's ever going to take the Saudi league seriously, if that is indeed the end game here with Benzema and Ronaldo before him, and yet those players, and managers that go there will get awfully rich doing so.
If the Qatari or Saudi or UAE rulers were hoping for just a nice coat of paint from bankrolling the world's biggest clubs and warping their leagues and by paying galactic sums of money to bring over-the-hill players to their league to shine to the rest of the world, it's hard to see how that's happening. It just brings what they've tried to keep under wraps more to the surface. Would as many people know about the modern slavery in Qatar is they didn't have the World Cup? Unlikely. Doesn't mean much was done about it, but it certainly didn't make Qatar look any better.
As for the pure football matters, Benzema's departure from the Spanish capital throws the striker market this summer into even more upheaval, as they, Chelsea, Manchester United, and Bayern Munich will be looking for #9s now. Dusan Vlaovic's, Victor Osimhen's, Lautaro Martinez's, and Harry Kane's agents are probably very aroused right now. And maybe one day they'll all end up in Saudi Arabia for the price of the GDP of France.
Follow Sam on Twitter @Felsgate.