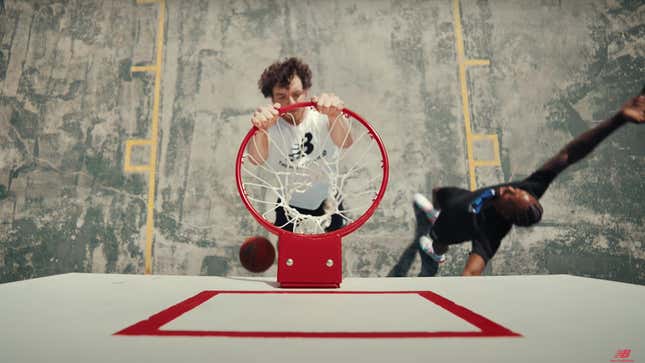 Amid all the talk about load management and the L.A. Clippers' legit chances of bringing home their first NBA title, we've totally neglected one blemish on the résumé of Kawhi Leonard. The fact that New Balance tries to sell the world that rapper Jack Harlow is a formidable opponent to "The Claw" on the court is absolutely absurd. And Kawhi going along with it is probably the most ludicrous.
Leonard might have a career in acting because he put ol Jackie boy over like a million bucks. I get that we're in the age of everyone being a star on social media, but if this was New Balance's veiled attempt at remaking the Michael Jordan "be like Mike" commercials, we're not buying it. Playing in Kawhi's shoes will not allow you or any of your friends to be competitive in a one-on-one game with the two-time NBA Finals MVP. Or any NBA play, for that matter. Don't believe the hype.
In fact, the only person who seems to even be nearly that delusional is Mr. Harlow. This guy actually had the nerve to say he's been told that Kawhi plays like him. It must be the shoes. "They see like flashes of me when he plays..."
Talk about drinking your own spiked Kool-Aid. This commercial made it feel like Harlow stood a chance against Leonard without help. Straight up, no teammates, no nothing, Harlow's trading buckets with Kawhi. Get the fuck outta here. Indeed, Jack is loved by his legions of fans and probably excellent at what he does, but hooping on one of the NBA's best isn't one of 'em.