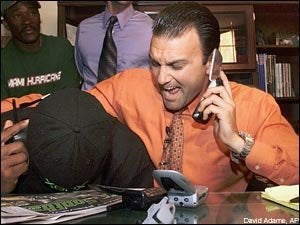 We all know and have long ago accepted that professional athletes make too much damn money, but nothing hammers that point home quite like peeking at SI.com's list of the 50 highest-earning American athletes in sports and seeing Chris Webber, Michael Finley, Jason Giambi, and Stephon Marbury all in the Top 30.
Golfers occupy the top two spots, with Tiger Woods at #1, and Phil Mickelson at #2. It's worth noting that three of the top four in endorsement money play either golf or tennis (3rd on that list is Lebron James, who makes $24 million in endorsements, to Andre Agassi's $23 million). The lesson here: endorsement money is the biggest in sports that appeal mainly to country club members.
Six New York Yankees make the list, including Derek Jeter, Alex Rodriguez, Jason Giambi, Mike Mussina, Randy Johnson, and Johnny Damon. And had SI not relegated international athletes to their own seperate list, Hideki Matsui would've also popped in around #21. That just doesn't seem fair.
I wonder if Drew Rosenhaus looks at this list and pleasures himself.
The Fortunate 50 [SI.com]
The International 20 [SI.com]