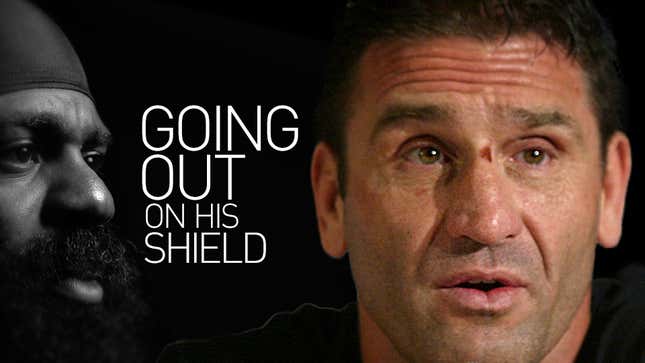 Six months ago, Ken Shamrock bought an RV. Two months ago, he parked it nine hours south of his family home in Reno, Nev., right by a mixed martial arts gym, where the 51-year-old is training for his heavyweight fight tomorrow night against Kimbo Slice.
It's 38 feet long, cozy but with enough room for him and his dog. There's no running water, so Shamrock buys huge jugs from the store to hydrate and chase down supplements. He makes his own meals, often of chicken and rice; when he's done, he brings in water from the gym to wash off the plates. When he needs a shower, he showers in the gym. When he sleeps, he sleeps right there in the parking lot. When he wakes up, he's already at training.
"But I got heat here," the fighter says. "So we're good to go with the heat."
This is a new regimen. Once, he had people making his food, folding his laundry, doing his dishes, catering to his every whim. That was years ago, though.
"There was a point in time where I felt like I was living off my past, and my accomplishments, and what I've done," Shamrock goes on. "It just felt like I was being empowered to be this person that I'm not anymore. And I felt like I needed to go back to the beginning again, and really start wanting and get hungry to want to be that guy again."
That's why he lives in the RV now, isolated from virtually everyone, including his wife, kids, and 10 grandchildren, who wait on him hand and foot, who make life easier these days.
When he speaks about past, he speaks about it with pain, with the self-awareness and wisdom of an old man. Over a career that spans nearly 30 years and includes forays into professional wrestling, no-holds-barred hand-to-hand combat, and bygone hybrids of the two, Shamrock was crowned as both the godfather of mixed martial arts, and more importantly, The World's Most Dangerous Man—the best fighter in the world.
But his career is a winding one that took several dramatic turns, leaving him broken, disgraced, and forgotten by the very sport he helped usher into the present. When I ask why he's stepping back into the cage now to fight YouTube's most famous brawler, nearly five years since he last fought, and longer still since anyone thought about him in the present tense, his answer is simple.
"Seal my legacy," he says defiantly, "about who I am and what I'm about."
This is where self-awareness gives way to self-mythologizing. Shamrock doesn't think it was supposed to go down like this. It was all, he figures, some kind of mistake. So after three decades, he's washed up one last time in one of the largest fight promotions in the world, with one more shot to fight an old foe 30 pounds heavier, restart his career, and make things right.
Shamrock insists now he is stronger now than he's ever been. His abs are as flat and defined as ever, and at six feet tall and 215 pounds, with arms like fire hydrants, and still grasping to his All-American good looks, he looks much like the tireless brawler who competed in the first-ever Ultimate Fighting Championship contest, 22 years ago. But now his hair's grayer, and deep wrinkles dance from his narrow gaze like cracks in worn leather, and the once-great athlete walks from here to there on stiff, heavy legs.
This is how people get killed.
The World's Most Dangerous Man
In 1997, a special called The World's Most Dangerous Things aired on ABC News. In it, the crown of "The World's Most Dangerous Man" was given. There have been more episodes of The World's Most Dangerous Things since, and other men have been named "The World's Most Dangerous Man," but that year was Ken Shamrock's turn.
By then, he was already 33, and had already followed up a childhood of poverty and terror with a full, celebrated career.
Shamrock grew up fighting. He was born Kenneth Wayne Kilpatrick in 1964, in Georgia; when he was five, his father abandoned him, his mother, and his three brothers. With his mother go-go dancing to put food on the table, the four sons fought in the street until his mother remarried a man named Bob Nance and the family moved to Nance's hometown of Napa, Calif.
When Nance wasn't working one of three jobs, he beat his stepsons, and took them camping, and signed them up for sports. None of his attempts to raise them worked, though, and when Ken was 13, Nance kicked them out. They lived on the street and separated. Ken bounced around a couple of foster homes, then ended up at Shamrock Ranch, a 6,400-square foot property in Susanville, Calif., a year later.
Shamrock Ranch, run by Bob Shamrock and his wife Dee Dee, was renowned for giving the worst teenagers their last chance. Boys from all over—as many as eight at a time—were shown love at the ranch, and taught etiquette, and those who wanted could play sports at school. Bob and Ken connected, and when Bob adopted him in 1982, Ken took the Shamrock name as his own.
Bob was Ken's biggest fan. He supported Ken as the teenager played football and wrestled in high school. Bob also played to his sons' worst impulses. When they argued, he would let them fight in the yard, with boxing gloves. And after Ken spent two years playing community college football and did a stint in the Marines, Bob entered him into several Toughman competitions, where amateur fighters boxed. This is where the two learned that Ken, always a tough out in the yard, had the ability to deliver a knockout punch with boxing gloves on to grown men who were donning protective headgear. This, too, is where Shamrock got his first nickname: The Destroyer.
Bob was a huge professional wrestling fan and, seeing his son's athletic potential, he pushed Ken toward pro wrestling along with Toughman. In 1989, Ken moved to Morrisville, N.C. to join up with South Atlantic Pro Wrestling.
"That's where I really got my start," Shamrock says. He was a natural, and even did a couple of house shows with the World Wrestling Federation. "I just found at a young age that I really wanted to be more competitive."
Starting in 1990, he made trips to Japan to wrestle professionally. And in 1993, through wrestling star Dean Malenko, he was introduced to the form of pro wrestling that was about to become mixed martial arts.
"When I first tried out, I went to Miami, and I had to go against a couple guys," Shamrock says. "The real deal. And I finished most of the guys. Then I went to Japan and I had to do four different guys over there, and you know, two of them were [Minoru] Suzuki and [Masakatsu] Funaki. They handed me an asswhooping."
All these years later, the early iteration of Pancrase—the Japanese fight promotion that started up in 1993 featuring Shamrock, Suzuki, and Funaki—doesn't seem much less strange than it must have at the time. The conceit was essentially that its fights (held under rules that, like modern MMA, allowed kicks, knees, and open-handed strikes) were pro wrestling, but real, and it had a real hall of mirrors quality. The competition was for the most part legitimate, but some matches were fixed, some sequences were staged, and sometimes fighters went easy on inferior opponents to give the crowd a show. If its roots were in pro wrestling-as-MMA, early Pancrase, at least in modern terms, is best described as MMA-as-pro wrestling. Witness Shamrock suplexing an opponent—Matt Hume, currently a top coach whose charges include UFC flyweight champion Demetrious Johnson—and then backflipping directly into a mount in an obviously choreographed sequence:
Caveats aside, Pancrase was as close to recognizably modern MMA as anything else going at the time, and fighting there meant that on Nov. 12, 1993, Shamrock was as qualified as anyone else for the first UFC event, an eight-man, one-night cagefighting tournament. He quickly submitted his first opponent with a heel lock, and then took on a Brazilian jiu-jitsu fighter named Royce Gracie. Gracie was 175 pounds, the lightest man in the tournament; at 215, Shamrock looked like an action figure. (Many claim it's because he used steroids and performance-enhancing drugs as a wrestler and Pancrase fighter in Japan.) In just 57 seconds, Gracie absorbed Shamrock's rush, scrambled onto the American's back, and choked him out. Shamrock tapped.
It was a seminal moment in the history of fighting. Twenty-two years later, there's nothing especially surprising about seeing a smaller, more technically skilled athlete have his way with a musclebound specimen, but at the time, before most anyone in America knew what Brazilian jiu-jitsu was, it was revelatory.
Shamrock swore to take vengeance on Gracie at UFC 2, to be held March 11, 1994. But while preparing for it, Shamrock broke his hand, and Gracie was able to defend his claim to being the best fighter in the world. At UFC 3, on Sept. 9, 1994, Gracie withdrew due to dehydration.
In its way, all this build-up was seminal as well, introducing the sport to the kind of pro wrestling-style hype that to this day largely defines MMA in America. And that makes sense, because Shamrock was, functionally, a pro wrestler. He was still competing, after all—both legitimately and less so—in Japan, and won the Pancrase championship on Dec. 17, 1994.
Shamrock finally fought Gracie at UFC 5 on April 5, 1995. They drew after 36 minutes of, essentially, Shamrock laying on top of his rival. A month later, Suzuki took Shamrock's Pancrase title by escaping a fully-extended armbar in an unbelievable recovery and tapping Shamrock out in a kneebar.
Over the next year and a half, Shamrock fought five more times in the UFC, going 3-1-1 in that span. At one point, he won and defended the UFC Superfight Championship before losing it in an infamously dull affair with Dan Severn. Neither could finish the other man after 30 minutes of circling one another, but unlike the second Gracie fight, there were judges. Severn won in a split decision.
In late 1996, the UFC looked to be running out of money, and Shamrock was married with three kids, and a fourth on the way. After winning a fight in December, Shamrock went back to professional wrestling. He made his WWF debut in Feb. 1997, just after his 33rd birthday. In March, after the ABC News special, Shamrock took to the ring with a new nickname: "The World's Most Dangerous Man."
"Ken has always been hailed as a badass in a weird way," Sherdog's Jordan Breen says, "in the way that the fake and the real [entwined] themselves kind of add to the allure that he's the real deal."
While in the WWF, no one could say that Shamrock wasn't hard. In his time there, he was known for taking incredible punishment, for running headlong into chairs with his hands down, without any protection. On multiple occasions, he got seriously fucked up.
He badly hurt his neck and ripped up his knees, injuries that added to a laundry list he incurred throughout his career. But in 2000, Shamrock returned to MMA, to live, unscripted combat.
"I love the idea of going out there and being able to compete," he says. "Doing something nobody else, or maybe one percent of people are able to do."
But he was nearly 36. His career was as good as over. He just didn't know it.
"People will not believe me."
In August 2000, Shamrock fought Kazuyuki Fujita for Pride, a Japanese fight promotion—at the time, the biggest in the word. After seven minutes, seemingly out of nowhere, he forfeited; he thought he was having a heart attack. His corner had no choice but to throw in the towel.


That was the end of whatever Shamrock had been as a fighter. Over the next six years, he took eight fights, and lost six. His main use was as a sacrificial lamb. Three of his losses were to Tito Ortiz, one of the biggest stars of the UFC's second generation and a longtime rival of Shamrock's Lion's Den teammates. Among them was Ken's adopted brother Frank Shamrock, in many ways the first truly modern fighter, who moved between striking and grappling with a fluidity that made it seem as if he was participating in an entirely different sport than Ken was.

In the first Ortiz fight, Shamrock refused to come out after being ground into the mat for three rounds. In the second, a pay-per-view bout heavily hyped for months on the UFC's then-new reality show The Ultimate Fighter, Ortiz stopped him after one minute and 18 seconds. The fight was so disappointing that the UFC immediately staged a rematch on basic cable, where a huge audience watched Ortiz humiliate him, brutally revealing that he simply had no business fighting professionally. It was Shamrock's last bout in the UFC.
The significance of Shamrock's second run in fighting had nothing to do with his ability; it was about promoters trading on the aura still attached to him as MMA's first American star and as the supposed World's Most Dangerous Man. The fights were real, but the outcomes so preordained that he may as well have been back in the WWF. Even a decade ago, he was a relic of a time before the sport of MMA had a name.
"Ken is a better athlete than just about anyone," Breen says. "But he hasn't evolved as a fighter. People who get crushed for not evolving have evolved way more than Ken Shamrock."
It took him a year and a half after being bounced out of the UFC to find another fight, against Robert Berry in March 2008.
It looked startlingly like Shamrock took a dive, or else was a danger to himself. It was the fight that, more than any other, cemented Shamrock as a can, an easy payday, a joke. A year later, he submitted an opponent with an armbar in the first minute of the first round, then tested positive for three different anabolic steroids.
This didn't come as a shock. Everyone had long assumed the 45-year-old career professional wrestler with the impossible body was doing steroids. But now, they knew.
Then Shamrock found Christ, and got to work on a documentary about his rebirth as a Christian and a fighter. The documentary, called The Greatest Fight, shows footage from Shamrock's final three professional fights.
In the last, he fights a fat man named Mike "The Rhino" Bourke, coming off a run of 15 fights in which he'd gone 2-12-1. It ends with Bourke screaming and mugging for the crowd as Shamrock gets up, barely able to walk. Shamrock hasn't fought since.
Why the hell does this man think he can fight again?
"I fought all the best guys in the world over in Japan, England, Russia, you name it," he says. "I've fought 'em, and I was world champion in both countries while I was doing it. Bareknuckle, with gloves, you name it. I did it all. And I was the best."
But then, 10 years ago, Shamrock explains, he got hurt. And what's more, he didn't know he was hurt. He claims that because of this, he could never peak in camp, never get into top fighting shape.
"That in itself almost killed me, because I would push past the injuries, and past these situations, and of course I didn't know I didn't have them at the time," he says. "And because I was doing that, I was on the brink of death. So yeah, at one point, it was my strength, and at another point, it was my weakness."
Miraculously, within the last year—having already retired to a life of ministry, motivational speaking, and aiding at-risk youth—Shamrock has, he says, gotten better, and is now in the best shape of his life. When I ask him how he's gotten better, he says God. When I ask what he hurt exactly, he doesn't tell me. But:
"I'm gonna write a book," Shamrock says, defiantly. "I'm going to explain over the past 30 years of my life of things that I endured and what I went through. And when I do, I promise you with everything that I am, that people will not believe me. But I have factual proof of everything that has happened to me, and I have been able to overcome."
He swears this is the best he's felt in 10, 15 years. He feels reborn. So does his opponent.
"Can you fucking fight? Are you a fighter? Is it in your heart?"
Kevin Ferguson was born in the Bahamas three days before Shamrock's 10th birthday. Like Shamrock, he relocated as a child; Ferguson and his mother moved to West Perrine, Fla., an impoverished, black Miami suburb. Like Shamrock, he grew up poor and was a standout athlete, becoming a star linebacker in high school. He almost made it, earning a scholarship to the University of Miami, before dropping out.

Shamrock had both his first professional Pancrase and UFC fight in 1993; 10 years later, Ferguson, at the time a bodyguard for the porn production company Reality Kings, fought in his first taped street fight against a guy from around the way named Big D. At six-foot-two and 260 pounds, Ferguson was a black, bald, bearded mountain of muscle. He made quick work of Big D, and when they were done, Big D had a crushed orbital eye socket. In the grainy video, his eyeball appeared to have been pulverized. That earned him the moniker "slice," and added to his childhood nickname, he had a new name to go with his viral fame. It took two years, but footage of the fight gave Kimbo Slice a way out of West Perrine.
YouTube was launched in 2005, and Slice was one of the site's first stars. Millions of people watched videos of him taking on different men in backyards and parking lots. He was by no means a martial artist. He also wasn't fit, or fast, or quick, or agile. He couldn't really protect himself, attacked with wide, looping punches, and was clueless when one opponent thought to grapple with him. But he ducked okay, and when those wide, looping punches connected with men's faces, those men bled, and then they fell down.
With such a sizable online following behind him, Slice started training for mixed martial arts, and had his first MMA fight in the now-defunct EliteXC, in 2007. When he walked to the cage, the Reality Kings crew was his entourage. At the opening bell, Slice strode across the mat, and punched his opponent, Bo Cantrell, in the sternum. Cantrell went down. Seconds later, the ref pulled Slice off. Kimbo was 1-0.
In 2008 with a record of 3-0, Slice took a fight against Shamrock, who'd just been knocked out by Robert Berry, in a heavyweight bout. At the weigh-in, Shamrock weighed in at 206.5 pounds; Slice was 28 pounds heavier. When it was time to square up for fight photos, the inexperienced Slice instead turned his back, gesturing to the crowd. Feeling disrespect, Shamrock shoved him from behind.
There was a melee, and both camps struggled to separate the two fighters. It was the best thing that could happen in the leadup to the nationally televised fight, something right out of Shamrock's days in pro wrestling. And then Shamrock backed out.
The older man purportedly split his brow in training just before the fight. Shamrock's father Bob also was in the hospital, in a coma. The World's Most Dangerous Man simply wasn't ready to fight. Kimbo's camp, of course, called him a coward. But he subbed out, and was replaced by Seth Petruzelli. Slice outweighed Petruzelli by 29 pounds. Petruzelli knocked out Slice in 10 seconds.
There was confusion afterwards. Many onlookers had surmised before the fight that Shamrock would take a dive, furthering the hotter fighter's career. And after the fight, Petruzelli implied in a radio interview that EliteXC asked him to take a dive.
"They hinted to me, and they gave me the money, to stand and trade with [Slice]," he said. "They didn't want me to take him down. Let's just put it that way."
Petuzelli has since backed off his claims, saying that EliteXC had simply offered a knockout bonus in hopes of a more exciting fight. But after that fight, Slice's career, like Shamrock's before him, took a turn. He was called up to the UFC, went 1-1 over the next year and a half, and then dropped. Some even called him the worst fighter in the sport. In 2010, the year Shamrock bowed out of MMA, Slice transitioned to boxing. His managers continued to carefully manicure his career, matching him against seven nobodies, often much smaller men. One of his opponents even claimed to wear 20-pound ankle weights just to make the heavyweight division. Slice won all of his matches, but no one took him seriously. His last fight was in 2013.
"I'm glad you recognize the skills, dog," Ferguson says when I tell him I've been watching him since my senior year of high school. On the phone, the grandfather is warm and accommodating, only making conspiratorial nods toward Kimbo Slice, his more public persona.
"I can bowl like a 190 game," he says when I ask him what he does when he's not hitting things. "Bowling is relaxing. Think about it, man. It's a black ball rolling down the lane, knocking down some white pins with red stripes around their necks. That's poetry, man."
Later, he adds: "I can bowl a 200 game."
He doesn't get believably heated until I bring up Shamrock.
"Ken Shamrock, man? I got bad blood with this dude," he says. "I don't like him. He put his hands on me. Where I'm from, in the hood, you don't put your hands on a nigga unless you're trying to do something."
Oddsmakers have Slice as the heavy favorite. It's simple: Kimbo is a decade younger. To win, Shamrock will have to take Slice down. To take Slice down, he'll have to get close enough for Slice to punch him. It's been years since anyone has seen Shamrock successfully dodge, or parry, or absorb a punch.
Shamrock claims to be returning to the ring for the love of competition. Slice swears he has different motivations.
"I hope he know to dogfight. Can you fucking fight?" Slice asks of Shamrock over the phone. "Are you a fighter? Is it in your heart? If you come in here thinking it's a fucking competition and we're going to exchange submissions, you're going to get your ass beat."
When I ask Slice what's going to happen, he cackles.
"Man, come on. You already know. I already know, and you already know it, too. The only thing I can't predict is how quick it's going to be."
"He's going to go down like an old person."
Kimbo Slice still runs his security company, tries to land acting roles, and just released a documentary of his own, on DirecTV. He's hustling. This fight is work.

For Shamrock, the motivation is, we're told, different. Seeing him in the ring one more time would perhaps be easier to digest if it was about something as simple as money. But he insists that it isn't, that he's doing just fine. About six months ago, he bought a stake in Fighters Source, the largest amateur fighting league in the world. He has a drink out, called the Shamrock Slam. He just bought that 38-foot RV. He has a business partner named Des Woodruff.
"Believe it or not," Woodruff tells me over the phone, "but The World's Most Dangerous Man is getting into stocks now!"
In any sport the beauty shines through at the top levels, with the best athletes plying their craft, expressing their genius, showing the outermost limits of the human mind and body. This is even—perhaps especially—true in MMA, which is violent, and which has yet to attract the very best athletes in the world. The UFC has a near monopoly on the top talent in the sport. When the quality diminishes, the beauty of and the rationale for the competition become harder to see through all the carnage. What's left is, well, ugly.
"This is gonna go so fucking badly," Breen says. "I don't think people have any idea how much of a fucking sham this is gonna look like. Kimbo is going to punch him in the head, and he's going to go down like an old person.
"This is a joke of the cruelest, most epic proportions."
The question with bygone fighters is always about which promotion is going to let them fight, knowing that this could turn out to be an ugly, sad, brief, or dangerous affair. The UFC wanted nothing to do with this. Bellator, the UFC's main competitor, made the fight.
The president of Bellator, Scott Coker, has always been a good, shrewd fight promoter. He burst onto the national scene in 2006 with the now-defunct Strikeforce, which had long promoted in Northern California but took advantage of the MMA boom to make a run at the big time. Strikeforce's first headline fight was billed as Shamrock vs. Gracie—that is, Ken's brother Frank against Cesar Gracie, Royce's nephew. Cesar, an important figure in his own right, was not Royce. Frank ended the fight in 21 seconds with an overhand right.
Coker has always placed fighters in archetypal roles, and isn't afraid to use deception in marketing. Outside of UFC, the Viacom-backed Bellator has the deepest, most capable stable of martial artists. It can put on terrific fights. It can also put on ugly bouts on a pure bait-and-switch model.
Shamrock and Slice are both big names with some mainstream appeal. But they're not martial artists, in the modern sense. This is essentially a pro wrestling match: an old, white warrior against a (somewhat) younger black streetfighter. If their limited tools lead to an entertaining fight in a bar-brawl sort of way, no one will be upset about it, but it isn't the point. The rest of this card is loaded with much of the best talent in the promotion. For Bellator, it's easy: come for the subpar main event, and get a real undercard thrown at you. Maybe you'll come back for more of what you saw there.
Shamrock and Slice almost definitely both know this. For Slice, it doesn't much matter. He was looking to take a fight in a local Florida circuit before Bellator came calling. This is a chance to make some quick money and look good enough to make some more.
For Shamrock, the endgame is different. He is a can. No one will ever again pay to watch him take on anyone he can beat. He is getting paid to get fucked up. And when I ask him again why he's fighting, he says he wants one last valedictory.
"When people talk about going out on your shield, they talk about it in terms of dying," he says. "But when I talk about going out on my shield, I talk about being raised up. I talk about being celebrated."
And that's why Ken Shamrock has exiled himself with his dog and his jugs of water in his RV, nine hours away from the comfort of his family. The isolation itself is a performance, in preparation for one final act that ends with the conclusion he feels he deserves. Regardless of what has happened in his career, he was The World's Most Dangerous Man. He still remembers. For one night, he wants us to remember it, too.
Image by Jim Cooke; Photo credit: Getty Images
Note: An earlier version of this piece referred to the gym that Shamrock's RV is parked outside of an San Diego Combat Academy. We have since corrected the error.