Saturday morning, my wife and I woke up without any particular plan, unless you count the plan to go the art museum, which my wife did in fact count due to the fact that I had agreed to the plan 18 hours earlier, but funny things happen to plans sometimes. So there we were, blissfully plan-free for an hour or two, until my phone calendar reminded me that I had to work that day, which is uncommon for a guy without a job, but again, funny things.
A bar in downtown Boston, which is two subway stops and three cultural light-years removed from my home over on the lazier, more pleasant side of the Charles River, was hosting a Founders Brewing Company tap-takeover event, featuring about a dozen rare beers highlighted by a 1 p.m. tapping of their famous Kentucky Breakfast Stout. I'd never tried KBS, which is an egregious oversight for a man in my line of sorta-work, and I generally love Founders beers, despite (and yeah, maybe a little bit because of) the dumdum Brewers Association's recent decision to strip them of "craft beer" status after Founders sold a minority stake to a Spanish company.
We got there at about 12:30, fearing a line of happy beer geeks, but instead we got tap-side seats right away and had time for a nice brunch and a couple of other beers before the Kentucky Breakfast Stout went live at the appointed hour. I highly recommend the Kinsale Tavern's tuna melt and the Founders Blushing Monk, which are, respectively, a tuna melt and a strong Belgian-style ale brewed with approximately half of the world's raspberry supply. Then we each spent a very worthwhile $7.50 for eight ounces of the vaunted KBS, an 11.2-percent barrel-aged imperial stout brewed with chocolate and coffee.
I really like this style of beer, and credit Founders KBS for being at the vanguard of the all-barreled-everything movement, but I would call the experience more pleasant and educational than life-altering. This was fine, as by now that's what I've come to expect from trophy beers. Was Kentucky Breakfast Stout all I hoped to would be? Yes! Was it definitively superior to Goose Island Coffee Bourbon Stout, say, or any of the dozen other imitators I've tried in the past few months? Probably not, but that didn't detract from the experience.
KBS is black as black can be, with very light carbonation, and it smells overwhelmingly of bitter coffee. There's lots of dark chocolate and some roasted—almost burnt—coffee flavor, which ran my simple mind through a bit of a thought experiment in which I tried to decide if the bitterness was due to the relatively high hop dosage or from the coffee. Still not sure, although I've read that KBS mellows with a bit of bottle-aging, which would suggest it's the hops that need a bit of smoothing out rather than the coffee. Either way, damn good beer, very glad to have had the pleasure. If you're a stout obsessive like some people I could name, I imagine your praise will be higher still.
G/O Media may get a commission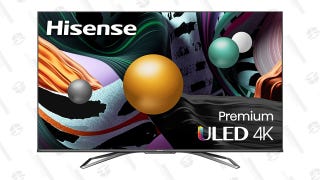 Save $350
Hisense ULED 65" Android 4K HDR Smart TV
---
This is Drunkspin Daily, the Concourse's adequate source for booze news, reviews, and bullshit. We'll be highlighting a beer a day in this space; please leave suggestions below.
Will Gordon loves life and tolerates dissent. He lives in Cambridge, Mass., and some of his closest friends have met Certified Cicerones. Find him on Twitter @WillGordonAgain. Image by Jim Cooke.
The Concourse is Deadspin's home for culture/food/whatever coverage. Follow us on Twitter.