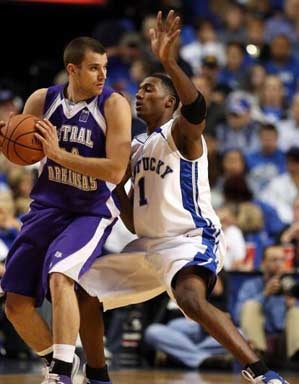 In the "holy cow, fans can be scary" file, the frustrated fans at Kentucky, suffering through a 9-9 season, have taken a lot of their ire out on recent transfer (to Illinois! Woo!) Alex Legion. (He of the soothsaying mother.)
Yes, even though he's a college basketball player on scholarship, Thermocaster introduces us to Fire Alex Legion.
We Illini fans should beware, they say.
And for the Illinois people who think they are getting a mint with Alex Legion. Yes it's exciting to THINK you are getting some super player but the fact is, anyone that watched the games he played in at Kentucky saw a player that needed tons of work. Slow on defense and not a good scorer. He was honestly someone that when you watched the video clips of his high school games, you thought he would be this big time player. Most UK fans thought the same thing you most likely are thinking, however he didn't deliver that drive and determination and ability that you see in those videos. He quite honestly was an extreme letdown and did not prove to be anything special when compared to a freshman like Patrick Patterson. Patterson had that drive and determination, Legion simply does not and you will learn that soon enough.
We would like to remind that Legion is now 19 years old.