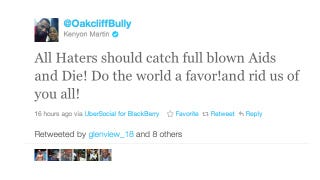 A veteran of 11 NBA seasons, Kenyon Martin has no doubt encountered a hater or two in his travels throughout the league. One might thus assume he's conditioned himself to keep whatever negativity that gets hurled his way from truly bothering him. But one would be wrong.
Martin recently signed a contract that will pay him approximately $3 million to play in China for one season. His most recent deal with the Denver Nuggets had expired, and to judge by the rest of his Twitter feed, it seems at least one of said haters had gone so far as to suggest Martin would have had to go to China even if there was no NBA lockout, thanks to his lingering knee troubles. Such ruthless Twitter talk certainly warranted taking the high road of the delicately worded response you see above, not to mention the restrained eloquence Martin showed by also tweeting this at that same critic. [Denver Westword]
UPDATE: Martin has since taken down his Twitter altogether. Of course he did.