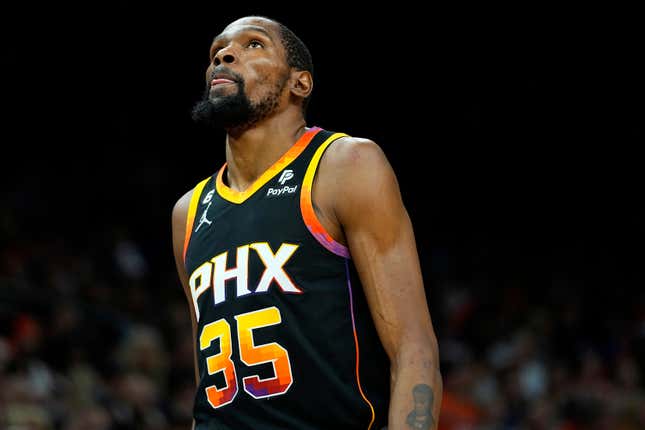 In 2023, there is nothing unusual about staying inside on a Friday night. Outside are gouged prices for steaks and cocktails, while inside provides unimpeded toilet access and a personal wifi connection. Spending the night in a Twitter Space arguing about whether or not Kevin Durant is currently a top-five NBA player, though, is a bit odd.
Will LeBron's Team USA win gold in the Paris 2024 Olympics? | Agree to Disagree
On Friday night, Twitter user @LegendofWinning was hosting a Twitter Space with that as the topic. With Durant always keeping one eye on his social media mentions, he decided to join the space.
He did so to defend not only his less-than-stellar semi-finals play against the Denver Nuggets, but also how his overall play since the ruptured Achilles tendon that he suffered during the 2019 NBA Finals. The host's take was that Durant's basketball skills are diminishing. The future Hall of Famer had a different opinion. He believes that he is largely as good today as he was years ago.

As Elon Musk continues to destroy Twitter, there are still ways to have fun on the platform, especially for famous people. Even if the topic is not entirely complimentary, why not insert yourself into a conversation about you? It will surprise the people and if even if some of them have made less than flattering comments, the moment is one that they will share with their followers and IRL people.
It's also an opportunity to do some focus group work. If Durant wants, he can compare the views that his Twitter spaces conversation have in comparison to his peers. Another competition and another chance at victory for a professional competitor.
Durant can also prove that he is no longer as sensitive to online comments as he was when his burner Twitter account came to light. There is no good look in people anonymously defending themselves. Either don't say anything at all or communicate from your verified account.
These days, there is a chance that @kdtrey05 might catch this story on social media. What he said to Charles Barkley two years ago is correct. If a person's name is constantly going to be mentioned, then why not have fun with it? The point of these social networking platforms is to socialize. For celebrities, this is a mostly safe way to engage with the public.
For everyone else who was in that space on Friday, however, you all had nothing more interesting to do than have a First Take conversation without the First Take salary. There had to have been a new series that they needed to binge or a movie to view. Anything would be better to me than arguing with strangers about a topic as unimportant as Durant's top-five status.
They got lucky that he stumbled upon it and made the night worth it, but this is the behavior of people who are no fun at parties. It is also why I don't tell strangers that I work in sports. If someone asked me, live and in color, if Kevin Durant is a top-five NBA player and wanted to discuss it for the entirety of a 20-minute Uber ride, I might dive out of the car and roll like I'm James Bond.
Kudos to Durant for enjoying himself on social media, but he made quite a salient point. For those people in that Twitter Space, the way that they look at the NBA is whack.