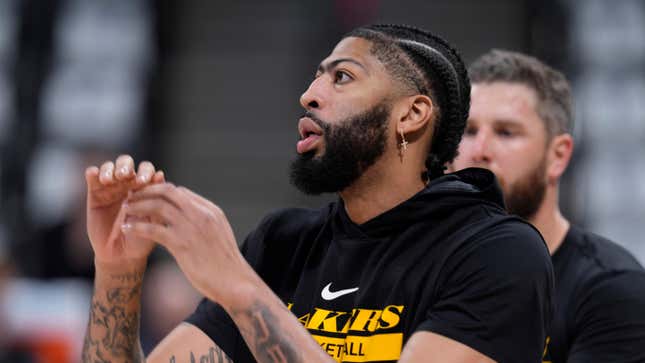 Kevin Garnett is an NBA champion, former MVP, and one of the best two-way players the league has ever produced. He's also a loud-mouthed trash talker, and that's meant in the most respectful way possible. Garnett talked a lot and still does. KG commented on his expectations for Los Angeles Lakers forward Anthony Davis on a recent episode of his podcast, "KG Certified" on Showtime Basketball. Garnett set lofty expectations for the 30-year-old star over the next couple of years.
Embiid, Harden, and Brooks' VERY personal fouls in the NBA Playoffs | Andy Reacts
"I'm expecting Anthony Davis to be MVP in these next two years or something, real shit," Garnett said. "It's time, bro. You can't let the Joker in the league and surpass [you]."
"He's going to take the reins of, 'Yeah, I'm the best player in the league.'"
After hearing that, one thing is certain. Garnett is a phenomenal motivator, but he's missed the mark on this topic. KG isn't wrong about Davis being able to do what Nikola Jokić and Joel Embiid can. It's not about AD's ability; it never has been. But can he do it better and more consistently than the last two MVP winners? That's the real question.
The other factor in this whole AD for MVP narrative is probably the biggest reason Davis won't become the league's most valuable player. LeBron Raymone James. The King is still a huge part of the Lakers and remains the No. 1 baller in Tinseltown. Plus, the Lakers may not win enough in the regular season for Davis to take the award, regardless of statistics. While he attempted to argue against that point, KG knows how voting for that award works.
We've heard this praise heaped upon Davis since he entered the NBA over a decade ago. He's the next big thing, top five talent, what he will do and should accomplish. Davis has been exceptional at times and had his great moments. But has yet to entirely live up to the hype surrounding him. He was supposed to have been one of the best three to five players in the world by now, and he's never reached that level.
However, Davis should be able to live up to the challenge Garnett has laid in front of him. But the likeliness of him fulfilling this prophecy is highly unlikely. One of the major obstacles that has derailed Davis' career in large part is injuries. Lack of availability is enough to disqualify a great player from winning the MVP award.
That's been the story of AD's career. He's played 75 games twice in 11 seasons, and that was in New Orleans. He's played in 60 or more games once during his stint in LA, and that was during the pandemic-shortened season. Last year Davis appeared in just 55 of 82 games for the Lakers. So, it's easy to see why even Paul Pierce couldn't go along with KG's prediction of Davis rising to the level of MVP within the next two years. The odds of Davis pulling it off are slim if history tells us anything.