Trashing Andy Reid is a time-honored tradition among fans in Philly, and that's even when the Eagles are successful. That level of angst is nearly incalculable this season, what with the Dream Team staring at a 3-6 record that already includes four losses at home. I can't imagine what the reaction is like right now to what former Eagles quarterback Kevin Kolb told a Philly radio station yesterday.
"It was funny, as they were lining up for the plays, I'd go 'Hold on, they're gonna do this.' And you don't know if they changed things up or what... but the ones that I was for sure on, I was letting it ring, and I think I helped us out maybe just a little bit here and there," he said.

Kolb explained that he worked with the defensive coaching staff during the week to help Arizona prepare for Michael Vick and the Eagles' offense.

"During the two-minute drill, you almost feel guilty," Kolb said with a laugh. "Mike's sitting there giving the signals, and I'm standing there on our sidelines, screaming at our corners, 'Hey it's a go ball, hey he's running a screen, hey he's running a slant.'"
Kolb even got in a dig at Eagles fans as he tried to downplay his injured role from the sidelines in the Cardinals' victory.
"How much of an effect do I really have?" he said. "I'm screaming to one guy. He may hear me, he may not. Luckily for us at that point [presumably the 2-minute drill at the end], the crowd was pretty dead and some of our guys could maybe hear it."
G/O Media may get a commission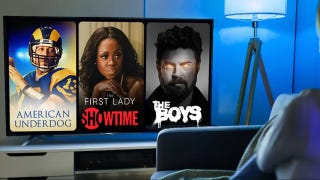 UNDER $1
99¢ Prime Video Channels
Kolb says he called out Eagles plays [Philly.com]
Kevin Kolb May Not Have Played On Sunday But He Certainly Helped the Cardinals Win [The 700 Level]