Vince McMahon is 72 years old. Back when he was a spry 50-something, McMahon took constant beatings from wrestlers. But in the last six years, he's only made sporadic appearances on WWE television.
McMahon is solid on the mic from his years as an announcer, wrestler, and carnival barker for the promotion, and now that he's receded into the background from on-screen activities he can play whatever role is needed when he shows up. He can be a heel, like when he allied with The Authority in 2014. Or he can be a harmless old face, like when he picked Kurt Angle as the Raw General Manager earlier this year.
Last night, he played the face. After years of McMahon playing the villain it seems odd. But he walked to the ring, got cheered and then was battered by a bad guy. He's a face! If only he wore his old-school powder blue announcer suit.
The backstory: Kevin Owens has been beefing with Shane McMahon, the GM of SmackDown, due to Shane blundering his way into helping A.J. Styles win his feud with Owens over the U.S. title. Last week, Owens said Shane should've died in the helicopter crash he was involved in earlier this year. Shane attacked Owens, got suspended, and now Vince showed up last night.
Vince berated Owens, saying he'd suspended Shane because Shane didn't "finish the job." He set up a Hell in a Cell match between Owens and Shane at the next SmackDown PPV. Then, after Owens asked if this meant he had the right to beat up a McMahon and got a yes, Owens headbutted Vince. And bloodied him!
G/O Media may get a commission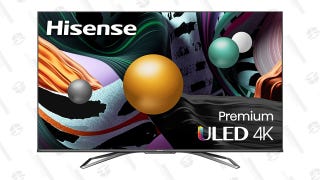 Save $350
Hisense ULED 65" Android 4K HDR Smart TV
In order to promote a match, Kevin Owens bloodied his opponent's 72-year-old father. Wrestling's pretty simple.