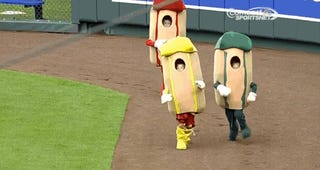 This poor kid was stuffed inside a hot dog costume and entered into a race with two other kids: Ketchup and Relish. Our friend was Mustard and as soon as he made the turn down the right field line his pants started falling down. It was only a matter of time, then. He ate it so hard, and then he ate it again.
You should watch the whole video to also feel the struggle of the poor guy feverishly trying to help the kid pull up his pants and finish. Everything about it is delightful and inspiring. Man, helping his fellow man get up when he has fallen, urging him to finish the Hot Dog Derby.
And these two did succeed. With the help of his newfound friend, Mustard was able to catch up and finish the race to thundering applause, which surely was of great enjoyment to him.