Sometimes we get a tip in the ol' inbox here that speaks to us for personal reasons. Early this morning, one came in about Will Thomas, a 12-year-old seventh-grader in McLean, Virginia, who decided to spend his Labor Day weekend shooting baskets to raise money for the families of the 17 Navy SEALs killed in a helicopter crash last month in Afghanistan. Thomas shot baskets for 50 hours, made 20,317 of them and raised over $34,000. Impressive stuff.
The tip was sent by Thomas's dad from the e-mail address of his wife, one Melanie Buttross. Familiar name, I thought. I know a Melanie Buttross. She's my ophthalmologist and a very good one. She also has a great sense of humor. Whenever I ask her for my visual acuity numbers (e.g. 20/20), she tells me I'm so blind that there's no point in measuring. Haha. I like such humors. But could the dead-eye charity shooter really be my eye doctor's bairn?
Why, yes, he could. There's doc in the video below. Funny to think that I called her office a few days ago to complain about some contact lenses she sent me. See, the lenses aren't exactly what I ordered. They're a new "advanced" version of the lens I like. And even though Buttross's assistant swears that they're the same, I can tell they're not. I can tell that someone is lying to me. And I used up my entire $150 annual allotment of contact lens insurance money on these things. Man, it sucks to be blind.
What sucks even worse, though, is bad karma. And it would be coming my way if I didn't mention the heroic feats of young Will Thomas.
G/O Media may get a commission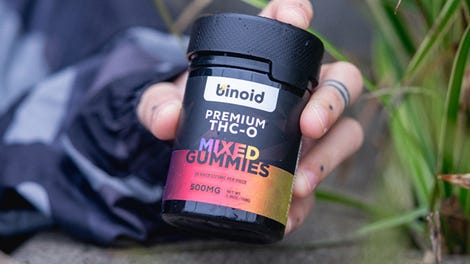 25% Off + Free Shipping
Binoid THC-O Gummies
[UPDATE: Will's parents inform me that if you want to make a donation you can go to
the Navy SEAL Foundation. Select "Operation Hawkeye" from the drop-down menu.]