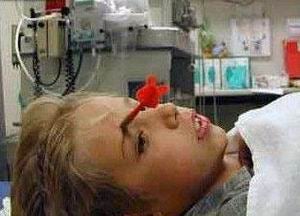 And so finally, we have the concept for the next Johnny Knoxville movie. The British Darts Organisation is campaigning for their sport to be included in the 2012 London Olympics; and to that end, they've opened the Darts School of Excellence in London. It's for for kids ages 7 to 18, as England attempts to groom the next generation of great darts players.
But darts in the Olympics? We were skeptical at first, but you have to admit that the British have a great sales pitch:
Organiser John "JJ" Gibbs, 59, said: "The days are gone when darts players had a fag in their mouth, a pint of beer in their hand and a big belly.
Hmm. Anyway, welcome, students. Meet your Darts School of Excellence instructor, after the jump.
School For Darts Aims At The Kids [The Mirror]