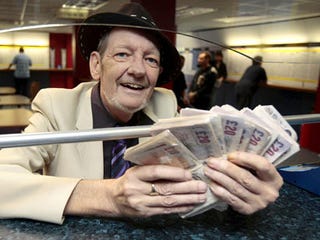 Brit Jon Andrews is 58 and dying of rare form of lung cancer that was supposed to end his life two years ago. As you can see, he's happy enough and financially liquid enough to make it rain at some sleepy English watering hole to the delight of its patrons and — he'd have a helluva story that would regal them until the sheep came home.
Andrews won almost $10,000 after Walter Hill betting parlor decided they give him 50 to 1 odds that the dusty old coot would die before June 1, 2008. He made it, and, yesterday, he collected.
Now, he's the toast of his country and decided to celebrate his gift of life and his winnings by placing another bet on himself against mesothelioma. But prospective punters shouldn't start throwing money at Matthews prospects this time around, as his plans to celebrate his winnings should give you pause.
The former car dealer said he would give half the money paid out by bookers William Hill to the Macmillan cancer charity.

"The other half I'm going to spend on myself - booze and fags probably - I don't have anything to lose," he said.

"The other thing I've always wanted to do is a bungee jump."
Looks like somebody's trying to move the line.
Dying Man Wins 5,000-whatever-that-symbol-is bet on life [BBC]

Bet Of A Lifetime [AnaNova]