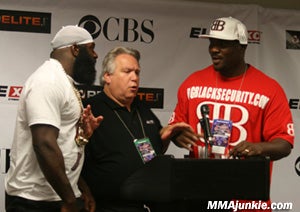 As confirmed on Dan LeBatard's radio show yesterday, Kimbo's next opponent in Elite XC is against the Fishbone-esque mohawked madman Brett "The Grim" Rogers. Slice and Rogers got into a little spat after Kimbo's controversial victory, with Rogers shouting at the bearded man-beast and calling his victory over James Thompson "garbage."
MMA Junkie relays the whole expletive-filled confrontation:
"I seen some [expletive] today. I seen some [expletive], some garbage-ass [expletive]. I'm a heavyweight, and I feel I'm a true heavyweight. (James) Thompson? Much respect. But I'm saying it like this. Kimbo Slice, man, that was just garbage, man."
The Cousins of Ron Mexico rightly suggest that Kimbo will be a huge underdog going into this bout, but he does have the benefit of a few months of Bas Rutten training still to come.
Kimbo has an uphill battle to garner respect from the rest of the human cockfighting community and he's always one loss away from being relegated back to the streets or, worse, the carnival circuit, wrestling grizzly bears and knocking out mules.
Kimbo Slice To Fight Brett "The Grim' Rogers [Cousins Of Ron Mexico]
Report: Kimbo Slice To Fight Brett Rogers In October [MMA Frenzy]
Kimbo Slice And Brett Rogers Have Altercation At EliteXC Presser [MMA Junkie]