NBC's tape-delayed Opening Ceremony broadcast ran a cool 4:58:38—more than an hour longer than the event's real-time duration—but, as usual, the Peacock Network left plenty of the show on its cutting-room floor. Here's everything NBC excised from last night's broadcast:
Carlos Nuzman's Address (12 minutes)
Rio Olympic Organizing Committee chair Carlos Arthur Nuzman delivered a mostly forgettable speech, much of it in Portuguese, praising the efforts of all the individuals responsible for making the Games happen. The most vital part of his address, is the above Freudian-ish slip.

Kip Keino's Speech (5 minutes)
Legendary runner and former Sports Illustrated Sportsman of the Year Kip Keino received the newly-inaugurated Olympic Laurel for his contributions to the Olympic movement and his work with orphans. His speech focused on the importance of education to prepare the next generation of citizens and leaders, but NBC didn't deem it worthy of inclusion in the broadcast. Here it is, in its entirety, as it's an important message worth hearing.
The Olympic Oaths (3 minutes)
One of the Games' most prominent elements of protocol is the moment representatives of the athletes, coaches, and officials take the Olympic Oath. NBC didn't show this, but here are the three individuals who served as representatives:
G/O Media may get a commission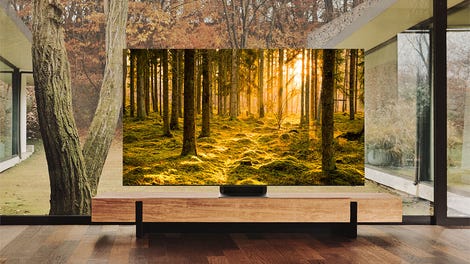 Up to 40% off
Samsung Smart TVs
Four minutes of samba music (4 minutes)
This went on for nine minutes, to herald the arrival of the torch. NBC aired five minutes of it.
And that's it! 24 minutes missing. That's a big improvement over previous years, trust us.
[BBC]