Last night's megatrade that will send Alex Smith to Washington ensures that this offseason is almost certain to feature that rarest of NFL species: an experienced starting quarterback venturing into unrestricted free agency. Brace yourself, gentle reader: We live in a world in which Kirk Cousins will likely soon be the NFL's highest-paid player.
Yes, that would be the same Kirk Cousins who's coming off a 2017 season in which he finished outside the top 10 in both passer rating (93.9) and Total QBR (52.4)—that's Josh McCown territory. But there's a logic to this, and it's rooted in three factors: distortions in the quarterback market, scarcity, and timing. Cousins stands to benefit from all three. Here's why.
The market
The value teams have placed on quarterbacks keeps rising, but it's been damn near impossible to gauge what QBs are truly worth. Smith is the perfect example of this, as overthecap.com founder Jason Fitzgerald detailed this morning:
Fitzgerald also wrote that he expects Cousins to get something in the range of $27 million in AAV.
G/O Media may get a commission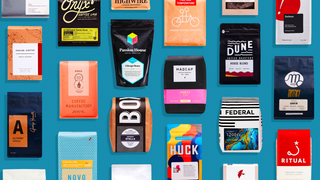 Get $25 free
Trade Coffee - National Coffee Day
Now consider that two of the league's best quarterbacks, Aaron Rodgers and Tom Brady, are comically underpaid. In 2013, Rodgers signed a deal worth $22M in average annual value (AAV), while Brady makes $20.5M in AAV because he famously takes below market value to allow the Patriots to spend more elsewhere.
Compounding matters, the salary cap has jumped 36 percent since Rodgers signed his deal, and it's expected to climb from $167 million in 2017 to anywhere from $178 million to $182 million in 2018. At the time Rodgers put pen to paper, his $22 million in AAV accounted for close to 18 percent of the Packers' cap obligation. But last year, when Matt Stafford set a new AAV benchmark of $27 million, that accounted for just 16 percent of the Lions' cap. In this context, it's easy to see how Cousins, coming off back-t0-back franchise-tag seasons that paid him $19.95 million and $23.94 million, could command Stafford-level money, if not more.
Scarcity
There are several QB-needy teams out there who might be willing to bid hard for Cousins. The Bills, Broncos, Browns, Cardinals, Jets, and maybe even the Jaguars are all potential suitors. This dynamic figures to drive up Cousins's price.
The Browns and Jets have the most resources to spend on Cousins, should they choose to do so. The Browns have an estimated $110 million in cap space, per overthecap.com. They also have two of the top four picks in the upcoming draft (Nos. 1 and 4), and even if they use one of those selections on a QB like Sam Darnold, Josh Rosen, Josh Allen, or Baker Mayfield, they still could be players for a veteran starter, given that Cleveland.com's Mary Kay Cabot reported that the Browns had tried to swing a trade for Alex Smith sometime before the Chiefs closed their deal with Washington.
The scoop hounds are already strongly suggesting the Jets as Cousins's most likely landing spot. The Jets should have nearly $80 million to spend, and they also just promoted Jeremy Bates to be their offensive coordinator. Bates can count former Skins head coach Mike Shanahan as a reference, and Shanahan was part of the Washington brain trust that drafted Cousins back in 2012. That the Jets are drafting sixth—behind the Browns, Giants, and Broncos, all of whom could take a quarterback—only adds to the possible urgency they may feel toward a pursuit of Cousins. Would the Jets want another bridge year from a low-cost veteran like McCown, coupled with drafting a rookie, perhaps even by trading up? Or would they prefer to sink some of their surplus cap into Cousins and build around him? Either way, free agency will begin six weeks before the draft.
The Bills (with an estimated $29 million in cap room), Broncos ($27 million), and Cardinals ($9 million) all seem to have substantially less to spend, but there are always ways for teams to manipulate the cap by backloading a deal for Cousins, sinking more of his guaranteed money into a signing bonus (thus spreading out the cap hit), or restructuring current deals for other players. Any or all of those approaches would depend on how much of the future those teams are willing to mortgage to strike a deal with Cousins. But with the cap expected to keep rising substantially at least through the end of the current CBA in 2020, that pain can be mitigated.
What about the Jaguars? Even if they want Cousins, the timing might be tricky. Blake Bortles's fifth-year option, at a cost of $19.05 million, is only guaranteed for injury and he could be cut right now at no cost. So the Jags could decide to take a run at Cousins, but the first day of free agency is March 14, which also happens to be the same day Bortles's option becomes fully guaranteed.
Timing
Technically, the Skins could place the franchise tag on Cousins for a third time and then try to trade him, but there would be a great deal of risk in doing so. For one thing, that tag value would be $34.5 million, which would become the baseline for guaranteed compensation payable in 2018 for any potential trade partners. For another, those potential trade partners would know the Skins are stuck with $58 million in cap obligations just for Cousins and Smith, and would thus be able to leverage that into a much higher return.

Also, as former agent Joel Corry pointed out, a third franchise tag would by rule have to be an exclusive tag, thus preventing Cousins from fielding any other contract offers.
Another option would be the transition tag, but according to Corry, the Skins would not be able to get draft-choice compensation (likely a third rounder) if Cousins were to accept an unmatched offer under the transition tag.
What it means is Cousins is all but assured of hitting the market—and cashing in.