A lingering sore spot for your New York Knicks, who've spent most of the last month sucking and losing, is point guard: Frank Ntilikina might one day be the answer at the NBA's most important position, but right now he's a wildly inefficient offensive player playing backup minutes behind, of all people, Jarrett Jack. The team had Ramon Sessions around as a third option, but Sessions was mostly a disaster as a Knick, and he is now gone.
Sessions is gone because the Knicks are bringing in Trey Burke, who's been lighting up the developmental league as a member of the Westchester Knicks. The New York Post has Burke "reinventing" himself in Westchester; Burke himself says he was glad for the opportunity to "recreate my brand on and off the court, show teams what I really can do if I have the opportunity to run a team." Let me save you the suspense right now: Trey Burke can do absolutely nothing running an NBA team, because he is a dreadful NBA player.
This is the second time in two seasons that Burke has been chosen to supplant Ramon Sessions: Ernie Grunfeld, architect of Wizards fan misery for, my God, 14 years, brought Burke in before the 2016-17 season after letting Sessions walk to the Charlotte Hornets in free agency. Sessions was a fine backup in D.C.—he can't shoot, but back then he could still get into the paint and draws fouls, and anyway the Wizards only need about 12 minutes of backup point guard play per night behind John Wall—but Burke is younger, and was cheaper, and is at least a shooter by reputation.
That move wound up being a complete disaster. Burke is not an NBA-caliber guard in any area: his ball-handling is shaky and he absolutely cannot beat committed NBA defenders off the bounce; he's a poor finisher; his passing vision is limited to swinging the ball to the next man along the arc, and slowly enough that you're not sure whether he should in fact be wearing bifocals; and he's a really especially rotten defender. His okay-to-decent shooting comes nowhere close to making up the difference. Burke finished last season with a putrid minus-9.2 net rating, a mark that somehow undersells how poorly he performed. When he was an actual part of the rotation, that number was more like minus-30, and the misery ended finally after the Wizards went out and got Brandon Jennings from the buyout market as an emergency replacement. Hilariously, Jennings was bought out by, yes, the Knicks.
Jennings, who promptly used the opportunity in Washington to play his way out of the NBA and all the way to China, was an improvement over Burke. Trey Burke was dramatically worse than a guy who actively played his way off the goddamn continent. Burke was Eric Maynor-level awful. Said one NBA coach, to the Post: "He's a scoring guard who can't score." He's also a guard who can't guard, and a basketball player who can't play basketball.
G/O Media may get a commission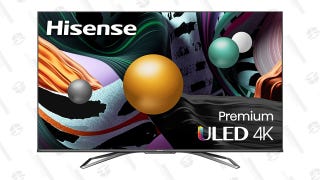 Save $350
Hisense ULED 65" Android 4K HDR Smart TV
There's something charming about the the Knicks running back a progression that torpedoed another, better NBA team just last season. Burke is not likely to play much for the Knicks, so long as Jack and Ntilikina hold up physically. On the other hand, the Knicks have lost 10 of their last 13, and sit four games below .500 and three games back of the East's final playoff spot. Over that span, Jack has a minus-6.7 net rating on dismal 49 percent True Shooting; Ntilikina is at minus-4.6 on even worst 42 percent True Shooting; Sessions played all of six total minutes. They for sure need something from that position, but I feel extremely confident saying Trey Burke is not it.