With the Empire State Building as a backdrop and a drag queen named Mimi Imfurst cracking jokes about stuffing wieners into Anderson Cooper's mouth, Takeru Kobayashi executed an improbably perfect "up yours" to the Nathan's hot dog eating contest, from which he's been barred over a long-running contractual dispute that we examined yesterday. Today, Kobayashi gobbled 69 hot dogs and buns, one more than his nemesis Joey Chestnut's world record and seven more than Chestnut ate on Coney Island to claim his fifth straight Nathan's title. So what if it was impossible to keep track of how many hot dogs Kobayashi actually ate. He ate a ton. Everyone had a great time. Happy Fourth of July, patriots.
Before Kobayashi took the stage, a motley horde of several hundred people had assembled to sweat on the roof of 230 Fifth, a 15,000 square-foot roof deck and garden in midtown Manhattan. Among them: Japanese hipsters with funky hair; Kobayashi supporters in black "Kobi unleashed" t-shirts; a smattering of bemused tourists; a pair of old ladies swaddled in stars-and-stripes clothing; another lady wearing leather gloves fringed with fur; a guy with the severed heads of teddy bears attached to his shoes; and one impossibly annoying Australian boohoo that immigration authorities mistakenly allowed into the country.
A video of Kobayashi's long and luminous career played on a big screen TV and featured an "Eye of the Tiger" montage and a map depicting his travels since he gained his "freedom" from the clutches of Major League Eating, the professional circuit that runs the Nathan's contest. Independence Day is all about independence, mind you. But that didn't assuage the fears in the crowd.
"I bet they're going to think that he's cheating because he's in a different place," said one young Kobayashi fan.
G/O Media may get a commission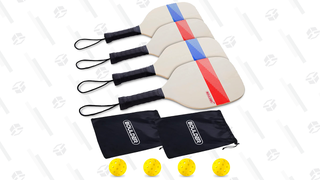 It's Pickleball
Pickleball Sets
To prevent horseplay, 230 Fifth had brought in two judges: Brian Adams and Tyrone "The Harlem Butcher" Jackson. They were both retired boxers, both golden gloves winners. As a pro, The Butcher had fought three times for a world title. The assumed their positions — one below the stage, the other behind the table where Kobayashi would eat. The big screen switched to the live ESPN feed. Joey Chestnut was being interviewed.
"Shutup!" a woman screamed at Chestnut.
Kobayashi emerged in his cut-off t-shirt, a swatch of red fabric designed by his translator/manager/girlfriend wrapped around his right biceps. He filled his dunking cups with water, cracked his knuckles, leaned on the table, and inhaled deeply. Plates stacked with five dogs were placed in front of him. It was time.
The frenzy commenced. Kobayashi tore into his dogs. Mayhem and confusion. Madness. It was hard to know what you were watching or even how to watch it. Kobayashi broke dogs in half, dunked buns in cups. He and Chestnut were dead even after the first plate. Then something happened. Kobayashi's count jumped. It soared. In a flash, he opened up almost a 10-dog lead on Chestnut, who usually starts fast. Kobayashi was eating three dogs at a time. Wadding three buns together. From the crowd's vantage point below the elevated stage, it was impossible to keep track of the action. Kobayashi was pulling dogs from different plates. Five dogs to a plate. I give up trying to count dogs and started checking to see if the count corresponded to the plates. It appeared to. Kobe maintained his lead as he moved past the 50-dog mark. Chants of "Break the record!" began.
With one minute left and bun slurry slicking his shirt, Kobayashi hit 65. Another plate came out. As the clock hit zero, the count moved to 69, Chesnut's record in the rear view, the storybook ending complete. Kobayashi jumped on the table, lifted his shirt to show his distended stomach and flexed. He roared. He banged the table and roared again. It was the validating scream that warriors make after victorious battle. God knows how many he'd actually eaten but it was a vast amount. He'd gone from 140 pounds before the contest to 158 pounds after. (They weighed him.) Then he clambered down from the stage and into a throng of journalists. CNN was there. The Associated Press. The New York Post. The Daily News. Fuji TV, one of the biggest media outlets in Japan.
Steven Greenberg, the owner of 230 Fifth, beamed. "I contacted [Kobayashi] after he got arrested," he said. "I immediately had this idea." Greenberg said he wished Kobayashi had eaten 68 dogs, the better to hype a showdown with Chestnut, whom Greenberg hoped to lure to his roof on Labor Day. He intended to make Chestnut an offer he couldn't refuse.
Afterward, Kobayashi sipped a Coke. He liked the taste. He wanted to savor it. His stomach was exhausted, and he would not eat for a couple days. When he did, he would opt for yogurt or tofu, which are among his favorite foods. He would give himself a short break and start training again for his next event, a fish taco competition in Huntington Beach. He was surrounded by friends. He lifted his shirt again. His stomach looked like a steel drum wrapped around a bowling ball.
"I know that I have a special stomach," he'd told me a few days ago.
He rubbed his special stomach. A woman sitting next to him rubbed it. His stomach rubbed the world.