What do Dwight Howard, Steve Nash, Pau Gasol, and Metta World Peace have in common with Chris Mihm, Chucky Atkins, Lamar Odom, and Caron Butler? If the season ended today, those would be the only two supporting casts in Kobe Bryant's career with which he didn't make the postseason. One of these rosters is not like the other—the current Lakers are a talented team that just can't seem to play basketball together. But Bryant isn't worried. With the season two-thirds over, Bryant is guaranteeing playoffs.
This is Kobe, so it's not a half-assed "We have the talent to do great things," or "I really believe this team will turn it around." There's no wiggle room here. In an interview with Sports Illustrated's Jack McCallum, Bryant gives as straightforward a prediction as predictions get:
SI: Can you get this done? And is it hard that after winning five championships you're battling to make the playoffs?

Bryant: It's not a question of if we make the playoffs. We will. And when we get there, I have no fear of anyone — Oklahoma City, San Antonio, Denver ... whoever. I have zero nervousness about that.

SI: OK, that's you, who has never been known for lack of confidence.
Bryant: But I'm not talking about just me. Us as a group. We will make the playoffs. And we will compete.
The Lakers have competed, at least recently. Two days after a players-only meeting in late January, L.A. began a 9-4 stretch with wins over good teams like Utah and OKC, Boston and Brooklyn. Even the losses have been close—a 10-point loss to an unstoppable Miami team was a two-point game with eight minutes left, a five-point game with four to go.
The Lakers are ninth in the Western Conference, but it's something of a distant ninth. They're three-and-a-half games back of the Rockets, a new-look team that, like Los Angeles, still hasn't completely gelled. But Houston's pieces are young, and Houston got better at the trade deadline with the addition of a 2012 lottery pick. The Lakers are going to have to dance with the old men who brought them.
G/O Media may get a commission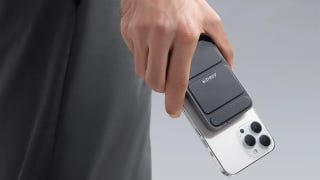 15% off
15% off Anker Top Ten Products
Take charge
Treat yourself to a portable power bank, a magnetic wireless battery for iPhones, or even a solar generator. There is a reason these are in the top ten. For instance, the Anker 747 Power Bank is a 4-in-1 charger utilizing USB-A and USB-C to be capable of charging up to four devices at once. Great to take with you when traveling and in need of keeping your phone, laptop, and even Nintendo Switch powered on.
Part of it is a question of these dogs learning new tricks. Steve Nash's numbers are near-identical to past years, except, somehow, his assists are down. One possible explanation, tinged with desperation: he and Dwight Howard are used to running the pick and roll, but different kinds of pick-and-rolls.
"Dwight was taught to pick, roll to the basket, seal and get the ball," explained assistant coach Dan D'Antoni. "He wasn't pick, get the ball and then move. Steve is used to coming off the initial pick and delivering the ball without waiting on the seal. It's a combination that takes time."
Bryant doesn't have much sympathy. In a wonderfully passive-aggressive interview earlier this week, he responded to the idea that might not be the type of offense Howard enjoys running:
"I don't like passing as much as I'm passing either but I have to do it in order to win. We just do what we do to help each other win ball games, even if you prefer to do something else."
Forget the in-fighting. Kobe and Dwight genuinely dislike each other, but that couldn't matter less. Howard is, as McCallum spells out, "a clown," and Bryant doesn't suffer clowns. He's the most pathologically competitive athlete since Jordan, and isn't a fan of anyone joking around while a season goes down in flames. But he'll make it work on the court. He made it work for many unpleasant years with Shaq. Bryant could hate Dwight Howard with a murderous passion, but he'll never stop passing to him. Ball is all. The playoffs are all.
Twenty-seven games to go. Three-and-a-half games out of the postseason picture. But the guarantee's been made, so in Bryant's mind, there's no drama left.