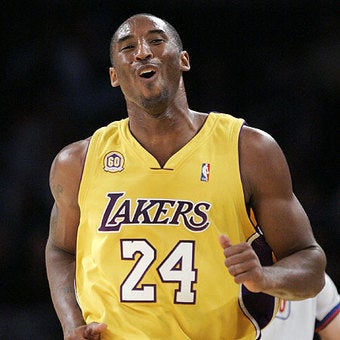 Every morning, the fine folks at Sports Radio Interviews sift through the a.m. drive-time chatter to bring you the best interviews with coaches, players, and personalities across the sports landscape. Today: Kobe Bryant.
Bryant joined The Dan Patrick Show to discuss which teams pose the biggest challenge to the Lakers this year, whether he wears championship rings, when he'll retire, and if he'll come back from that retirement.

On the which teams from the Western Conference pose the biggest threat:
The West is always stacked with tough teams, so it's easy for me to sit here and say everybody is a tough challenge and that's an accurate statement. … Honestly, we're just focused on ourselves, but if you look at the West, it's always, at the end of the year, tends to be the usual suspects: San Antonio, Dallas, Utah, Oklahoma has thrown themselves into the mix.
On whether he wears championship rings:
Opening night last year. When I get it on opening night, on ring night, I wear it out to dinner and then I put it up.
On how many years he's got left before he retires:
This is the first time [someone has brought it up]. This is a first. … I don't know. Who really knows? I hear of the different players when they go through retirement and that whole process and what they go through, emotionally, and I'm nowhere near there yet. I guess when it hits me, I'll know.
On whether he could see himself coming out of retirement after he retires:
Yeah, I mean, you see so many people and so many players do it, but it's tough to say that you won't go through that. Obviously, everybody does go through that. That's the point where you have your family handcuff you to a chair.
This post, written by Eric Schmoldt, appears courtesy of Sports Radio Interviews. For the complete highlights of the interview, as well as audio, click here.
More From Sports Radio Interviews
• David Stern Would Like To Talk To You About The NBA
• Juwan Howard Understands Your Miami Heat Criticism, But He Doesn't Have To Like It
• Joe Johnson Is Ready To Lead The Hawks To A First Round Exit