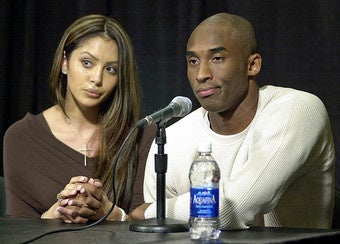 A housekeeper is suing Kobe Bryant and his wife, Vanessa, on the grounds that the missus is a raving lunatic taskmaster that would make Cinderellla's stepmother look like a compassionate boss.
Among the claims filed in court by Maria Jimenez, Vanessa Bryant verbally abused her, called her names, humiliated her in front of the family and other employees, and in the coup de grace, "demanded that Maria put her hand in a bag of dog feces to retrieve the price tag for the blouse" that she had accidentally ruined. It's unclear why the tag ended up in a bag of dog feces, but Bryant wanted it back so that she could properly deduct the cost from the maid's salary. That sounds like a fun household to grow up in.
Actually, the worst incident of all was when Vanessa accused the housekeeper of stealing her retainer. Bitch, oral hygiene ain't no joke.
Kobe's Maid Sues — It Was the Crappiest Job Ever [TMZ]
Ex-housekeeper sues Kobe Bryant, wife over dog doo [OC Register]