You know that uncomfortable moment when you discover that what you'd thought was all fun and games was actually deadly serious for one guy, and all of a sudden shit's all weird and fraught? Kobe Bryant is that guy. Last night he turned a silly little tug-of-war over a two-for-one opportunity into the goddamn kumite.
It began with around 38 seconds left in the first half, when Charlotte's Nic Batum hit a jumper from the elbow to tie the game at 57. NBA orthodoxy says the window between 38 and 30 seconds remaining in the period is when to get the front half of a two-for-one: even if the opposing team uses the entire shot clock on its next possession, you'll still have time to do more than just heave the ball at the basket before the buzzer. "Veteran piece of offense there by Batum," said the play-by-play guy.
But of course, that span between 38 and 30 seconds remaining is eight seconds long, and stubborn old Kobe Bryant had his own ideas about who exactly would be submitting the veteran pieces of offense around here, so he hurried back down and snatched the two-for-one opportunity back by ... look, Kobe's pretty old, okay? "Veteran" can mean, like, "savvy and crafty and wise," but it can also mean "too old to do stuff well anymore." What I am saying here is that with 30 seconds left in the half, Kobe dribbled into a double-team and chucked up a contested, off-balance three-pointer that hadn't a prayer of going in.
The thing is, to you or me or your average NBA player or coach, the appeal of the two-for-one is that if you manage the clock well and run good, crisp, fast offense, you might get two good shots, while the other team only gets a single possession. If one of those shots—particularly the first one—is to be a hopeless contested pull-up jumper over two defenders, there's really no point, to you or me or your average NBA player or coach; all you've earned for yourself is the privilege of not having a full shot-clock to work with on your last possession of the period. To Kobe Bryant, though, whose whole career has been a series of self-conscious performances of various ideas of basketball virtue in which every goal is subservient to the certification of Michael Jordanliness, the appeal of the two-for-one is the opportunity to perform Going For The Two-For-One in the most visible possible way, so that everybody will say, "Kobe values the two-for-one; he is a damn killer who never leaves scoring opportunities on the table; verily, his passion for winning reminds me of Michael."
Anyway, it missed. It was a terrible shot! He should have conceded the two-for-one to the Hornets, run some offense, and gotten a good look—but if he could do that, he would not be the kind of grown man who gives himself a scary nickname, and how much poorer would the world be? (Lots.)
G/O Media may get a commission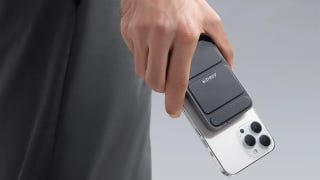 15% off
15% off Anker Top Ten Products
Take charge
Treat yourself to a portable power bank, a magnetic wireless battery for iPhones, or even a solar generator. There is a reason these are in the top ten. For instance, the Anker 747 Power Bank is a 4-in-1 charger utilizing USB-A and USB-C to be capable of charging up to four devices at once. Great to take with you when traveling and in need of keeping your phone, laptop, and even Nintendo Switch powered on.
Kemba Walker got the rebound and the Hornets ran out in transition—hoping, maybe, that they could get another bucket before the 24-second mark. Walker fired a pass out to Jeremy Lin—whom Kobe rather famously tormented last season when they were teammates, sending him cranky 1:00 am text messages and wigging out at him on the sideline during timeouts—on the wing; Lin up-faked and drove by a scrambling Kobe toward the paint, and ... Kobe tried to tear his damn head off!
Jeez, Gramps! Lighten up!
Kobe Bryant will not concede easy end-of-half baskets, even in meaningless games, even when his team is trash, even when the entire season is just a valedictory tour. He values every basket, every victory, no matter how small; pure victory, victory for victory's sake. His passion for winning reminds me of Michael.
His game reminds me of Boris Karloff. He made a quarter of his shots and the Lakers lost by 10. They're 5-27.
Video via YouTube; photo via Getty
---
Contact the author at albert.burneko@deadspin.com or on Twitter @albertburneko.