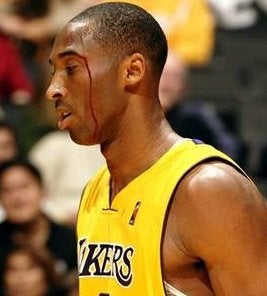 If the Los Angeles Lakers do indeed plan on making some moves to surround Kobe Bryant with some more talent, they might want to speed the process along. Kobe's hanging out in Barcelona, and he's not getting any happier.
A couple of weeks ago, if you'll recall, Kobe went off in the media and demanded to be traded, and then sort of took it all back the next day. It must have hopped in his carry-on luggage, because the "trade me" bug has once again crawled up his ass.
According to The Press-Enterprise, Kobe met with Lakers owner Jerry Buss on Friday in Spain and confirmed that, yes, he is still pissed off, and yes, the Lakers still suck. Buss is said to still be reluctant to trade his superstar ... Kobe's back-and-forth method of conveying his anger has not been nearly as effective as Denis Lemiuex's "Call Detroit, tell them bullshit" approach.
Meanwhile, the guys with this "Kobe Video" might be wasting their time. It sounds like he's going to eventually say all these things in public anyway.
Bryant pushing for trade [PE.com]
The OFFICIAL Kobe Video Website !!