The Boston Beer Company confounds me. I do like their most famous and best-selling beer, Samuel Adams Boston Lager: It's a seminal brew in many a Masshole's drunken coming of age, mine included, and a large, unbalanced load of the Internet holds this fact against us. I can't swing a dead Yuengling around here without being accused of a deep and abiding bias toward what is mistakenly regarded as my hometown brewery (I live closer to Cambridge Brewing Company, which has been around for 25 years, and Harpoon, which holds Brewing Permit #001 in the Commonwealth of Massachusetts; there are also a couple of newer operations that I prefer to any of the above).
But due to Boston Lager's national ubiquity and the rest of the country's justifiable hatred of our obnoxious sports fans and risible cultural superiority complex—just last week I was in Wisconsin, where it turns out they also have libraries and museums!—any positive mention of Sam Adams on a national beer site will be met with accusations of parochialism at best and corruption at worst. Lucky for me, I don't have cause to mention too many Sam Adams beers, because other than the aforementioned and discussed-to-death Boston Lager, I don't give a shit about most of them.
Sure, the Noble Pils is very good. And I recommend everyone try their annual deconstructed six-pack of Latitude 48 IPA, in which they include a bottle of the regularly available Lat 48 along with one bottle each made with just a single of the base brew's five hops. It's a good education. Plus the 26.2 gose they release around the Boston Marathon was exceptional this year—last year it tasted like feet. I've never had their super-prestige brew, Utopias, which is a bonkers $150 bottle of 29-percent-ABV strong ale reserved for rich guys and publicists' pets.
As for the other several dozen beers they pump out in any given year, I haven't found many worth writing about. That's not to say they aren't worth drinking, but the world's stuffed with pretty good beers. But remember that derisive, above-it-all thing I just said about "publicists' pets"? Well I guess I sort of am one; not like the Golden Retriever type who get the Utopias, but at least one of the hamsters upon whom they recently sprung a bottle of Kosmic Mother Funk Grand Cru, a strange and wonderful beer with a quick backstory worth telling.
Sam Adams brews a line of higher-end, limited-availability beers that aren't in the Utopias range but still go for about $10 a bomber; I don't see these beers around town a lot, and they don't make much of a blip on the balance sheet. I assume Sam Adams produces them just to prove that they can, the same way Ford has made Formula One race cars for show while making rental cars for dough. So the story is that Kosmic Mother Funk, an oak-aged Belgian ale, is added to a few of these Barrel Room Collection beers to give them an extra sour dimension, which comes from various wild yeasts found floating around the brewery, and the addition of sour-beer staples brettanomyces and lactobacillus.
G/O Media may get a commission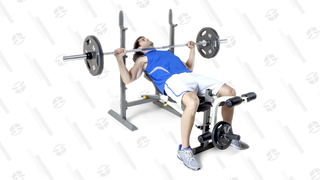 10% Off
Marcy Folding Weight Bench
Kosmic Mother Funk has traditionally been used as a blending ingredient rather than a consumer product, but a special Grand Cru version has undergone further aging and the addition of Belgian candi sugar to produce a more drinkable, stand-alone beer; the free sample bottle I got a few weeks ago blew my simple little mind. I'm not the world's foremost proponent of sour beers—I don't mind a touch of the funk, but I'm not one of the newer breed of beer geeks who automatically equate "sour and strange" with "good." This one, however, was clearly built on a firm base of quality Belgian ale before being augmented—not overwhelmed—by the weird yeasts and bacteria.
It pours a deep red with a negligible head, and the first aromas to hit me were of chocolate and sour blueberries. Then I got some cherries and vanilla before the underlying sourness numbed my tongue and forced a time-out. This is a glass of beer best considered over a good half-hour or more.
I would buy a few bottles of this if I could, but that's not how the marketing plan for this one works: Kosmic Mother Funk is going on a 12-city, draft-only American tour that lands today in Denver, with Cleveland next week, then Dallas and beyond. The whole schedule is here, as are details on how you can vote to make your city the final stop on the tour. If you are open to the idea of sour beers, I highly recommend seeking this one out.
---
This is Drunkspin Daily, the Concourse's adequate source for booze news, reviews, and bullshit. We'll be highlighting a beer a day in this space; please leave suggestions below.
Will Gordon loves life and tolerates dissent. He lives in Cambridge, Mass., and has visited all of the other New England states, including, come to think of it, Vermont. Find him on Twitter@WillGordonAgain. Image by Jim Cooke.
The Concourse is Deadspin's home for culture/food/whatever coverage. Follow us on Twitter.