In sports, everybody is a winner—some people just win more than others. Like Denver Broncos quarterback Kyle Orton, who won the weekend by not losing. (For Kyle Orton, that's quite an accomplishment.)
He was remarkably ineffective all day on Sunday, despite getting to throw into the Bengals secondary. He basically got away with not one, but two interceptions on his team's final drive. His last pass of the day was a terrible wounded duck that no NFL quarterback should ever be proud of. Yet, somehow it turned into a 87-yard touchdown, the longest last-minute, game-winning touchdown in NFL history. He even created a Gus Johnson sighting! And Kyle Orton, boo-booed finger and all, is 1-0.
You know who isn't 1-0? Gentleman Jay Cutler, the fella whose temper tantrum sent Orton to Denver in the first place. Jay did not get away with an interception on his attempt at a game-winning drive. There were also three other occasions where he did not get away with it either. That's his career high for interceptions and a loss against a division rival. And more crying.
So Denver, which looked like a season-long soap opera in the making, is sitting pretty this Monday morning while the Bears may be wondering what they have gotten themselves into. And the forgotten, unwanted Kyle Orton—by not tripping over his own feet and ruining everything—is the one who got them there. (Yes, it was pure dumb luck, but that's the best kind of luck.) When even NPR (i.e. Socialist HQ) is talking about you, know you had a good day.
G/O Media may get a commission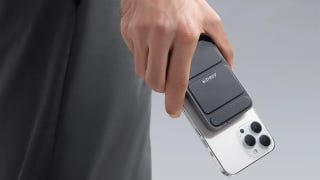 15% off
15% off Anker Top Ten Products
Take charge
Treat yourself to a portable power bank, a magnetic wireless battery for iPhones, or even a solar generator. There is a reason these are in the top ten. For instance, the Anker 747 Power Bank is a 4-in-1 charger utilizing USB-A and USB-C to be capable of charging up to four devices at once. Great to take with you when traveling and in need of keeping your phone, laptop, and even Nintendo Switch powered on.
Bizarre Ending in Cincinnati Sees Broncos Top Bengals 12-7 [NFL Gridiron Gab]
It's Always Sunny in Denver… [Bronco Talk]
Kyle Orton Mistake Gives Broncos The Win [Predominantly Orange]
Wacky TD gives Broncos 12-7 win over Bengals [NPR]
Brandon Stokley nearly kills Gus Johnson [Outside The Boxscore]
Jay Cutler's hot head, cold hand hurt Bears [Chicago Tribune]
* * * * *
Here are some other big winners, who did not win quite as big:
Drew Brees: Six touchdown passes! Against Lions? Oh, that's good too I guess. [Who Dat Dish]
Kim Clijsters: Lost in all the ball-in-throat-stuffing death threats? Kim Clijsters kind of kicked Serena Williams' ass. Then she won the whole shebang-a-bang at the U.S. Open. Good job, Mom. [NY Daily News]
Dan LeFevour: Central Michigan's four-year starting QB broke Byron Leftwich's MAC career yardage mark, then nailed down a signature win that will get him free drinks in the Lower Peninsula for the rest of his life. Boy, I sure feel bad for the chumps who blew that game! [Some MAChole]
Tony Romo: No Jessica, No T.O. Life is significantly sunnier in Dallas. [AP]
Rich Rodriguez: NCAA investigation or no, as long as Charlie Weis has a job, Rich Rodriguez is going to be okay. [Detroit News]