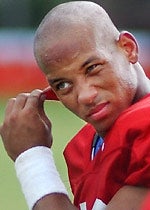 The Los Angeles Times is quoting a BCS source as saying that it'll be Florida and Ohio State in the BCS Championship game. They don't offer a lot of details about either how it happened, or their source, but they seem pretty confident about it.
Here's their projected BCS bowl line-up:
Rose: USC vs. Michigan.
Sugar: Notre Dame vs. LSU.
Orange: Louisville vs. Wake Forest.
Fiesta: Oklahoma vs. Boise State.
And it's worth noting that LSU has pre-sold (I'm not entirely sure what that means) 42,000 tickets for the Rose Bowl. But it's not much of a drive from Pasadena to New Orleans, I'm sure it will be fine.
Official announcements coming on FOX after the NFL festivities.
Florida vaults to No. 2 in BCS, will play Ohio State for national title [LATimes.com]