Sure, sure, we're as done with #brand fails as you are, but this is still pretty weak. There was a lacrosse event going on tonight, and whoever's running the Twitter account for Warrior—"one of the sporting goods industry's premier manufacturer of innovative, high performance, cutting-edge equipment, footwear and apparel for lacrosse and hockey athletes of all ages and abilities," per their website—decided to come down with strong takes on, well, women.
Probably no one thought about why a women's softball game was on ESPN and a men's lacrosse game was on ESPN2 until they saw this tweet, but once they did, various people registered objections on the lines of, "Well, no, I don't find it laughable, really." The #brand was happy to clarify:
So Warrior is associated with... lacrosse-based men's rights activism? Whatever. Any other shitty sports opinions on offer?
G/O Media may get a commission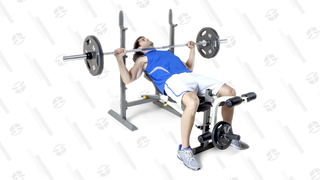 10% Off
Marcy Folding Weight Bench
OK. Cool story, laxbros.
Previously:
[h/t Old Hoss]