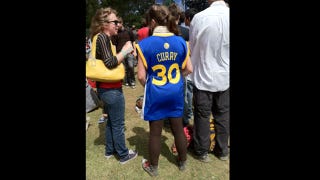 At first I thought this was a man, which would have been a hoopster to end all hoopsters. Dangly earrings, big scarf, a ponytail, leggings, and a cool player's jersey.
Alas, it's but a female hoopster. A floopster? Maybe.
H/T to Leo for the photo. Got any more photos from Outside Lands in San Francisco? Or elsewhere? Send 'em our way.