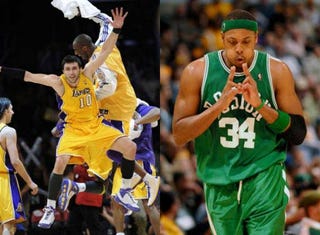 The season series: The Celtics (66-16) enjoyed a 2-0 season sweep of the Lakers (57-25). On November 23, they won 107-94 in L.A. On December 10, they won 110-91 in Boston.
History lesson: The last time Boston swept L.A. during the season and made it to the NBA Finals was 1985-86, when they went 67-15 and won the championship in six games. (Of course, they did it against the Houston Rockets, not the Lakers.) So anyway, this year's double ass-kickings would be pretty encouraging except for...
Reality check: The Lakers didn't have Pau Gasol (whom they acquired on February 1) for either game, and they had Andrew Bynum for only that first game in L.A. Oh, and Rajon Rondo wasn't available for the game in Boston. Ergo, you can probably toss those regular season games right out the window. In fact, wad it up and set it on fire before you do that. Fire bombs are cool.
History lesson: Did you know that Kobe Bryant and Ray Allen hate each other? Like, a lot? Well, they do.
Good news for Boston: The Celtics are 10-1 at home in the playoffs. And they have homecourt advantage. The Lakers, meanwhile, are only 4-3 on the road in the postseason.
Bad news for Boston: The Leprechauns are a sorry 2-7 away from the friendly confines of the TD Banknorth Garden (although those two wins were against Detroit in the Eastern Conference Finals, which is kind of impressive). The Lakeshow? Perfect at home (8-0). This means the first two home games are absolutely critical for the Celtics. If they lose one, it's highly doubtful they'll ever make it back to Beantown.
History lesson: Famous Celtics who were a part of this rivalry include: Larry Bird, Bob Cousy, Dennis Johnson, John Havlicek, K.C. Jones, Sam Jones, Kevin McHale, Robert Parish and Bill Russell. The famous Lakers include: Kareem Abdul-Jabbar, Elgin Baylor, Wilt Chamberlain, Magic Johnson, Jerry West, Jamaal Wilkes and James Worthy.
Coaching: Phil Jackson has coached in the NBA Finals twice as many times as Doc Rivers has even made it into the playoffs (10 to 5). Jax has nine championships, Rivers has 20 playoff wins. And yes, that includes this year's totals. I guess throwing out those numbers is kind of a cop out, but I'm going to go ahead and award the coaching edge to the Lakers.
History lesson: This is Boston's 20th appearance in the NBA Finals. L.A., on the other hand, have made it to the final round 29 times (including the six trips they made while based in Minneapolis). The title count currently stands at 16 for the Celtics and 14 for the Lakers.
Lakers players to keep an eye on: Um, how 'bout Kobe, Kobe and Kobe. The Mamba is averaging 31.9 PPG, 6.1 RPG and 5.8 APG in the playoffs. He's shooting 51 percent which seems low, because it sure feels like he scores every time he touches the ball. There's no way Ray Allen is going to be able to guard him. Doc Rivers will probably start by putting Paul Pierce on Kobe and use James Posey in relief. It worked on LeBron, but unlike King James, Kobe is deadly out to about 30 feet.
That said, Kobe was 15-46 in those two regular season games against the Celtics. And, amazingly, they did it by using Allen as the primary defender. They used the same strategy the Spurs used against Kobe in the Western Conference Finals: Keep him away from the basket, don't foul him, and make him into a jump shooter. And, uh, yeah...that didn't work.
But hey, we all know Kobe's going to get his numbers. Let's not forget Pau Gasol. His postseason numbers are 17.7 PPG, 8.9 RPG and 4.2 APG. The big question is: Who will be guarding him, Kevin Garnett or Kendrick Perkins? Perkins, you may remember, couldn't stay in front of the sloth-like Zydrunas Ilgauskas in the Eastern Conference Semis. Based on that, it seems like the quicker Gasol could tap dance by him. But even if they used KG on Gasol, that would leave Perkins on Lamar Odom (14.7 PPG and 10.3 RPG in the playoffs), who might even be fleeter of foot than Gasol. So basically, Doc has a matchup nightmare to contend with.
Celtics players to keep an eye on: Kevin Garnett is Boston's postseason leader in points (21.1) and rebounds (9.8). He's also their defensive linchpin. He's going to be responsible for defending L.A.'s best frontcourt player (either Gasol or Odom, depending on the night) and helping out on the other. Oh, he'll also have to — along with Kendrick Perkins — defend the paint against penetration. In short: Pretty much everything.
Paul Pierce (19.0 PPG, 5.1 RPG and 4.1 APG in the playoffs) will probably have to guard Kobe Bryant, just as he had to guard LeBron James. And, let's face it, he's also going to have to take all the clutch shots, probably against Mamba's defense. All of which means just as much is riding on him as Garnett.
Rajon Rondo and Kendrick Perkins are also key. Rondo has to run the Boston offense without making stupid passes (like those cross-court lobs he was tossing around in the Detroit series) and hit jumpers when left open (and trust me, they'll be leaving him open a lot). He's also going to have to contain L.A.'s perimeter players (Fisher, Farmar, Vujacic), because the Lakers' three-point barrage can be devastating. Perkins has to D up Gasol or Odom, crash the boards, and finish around the basket when he gets the opportunity (has anybody else noticed how often Perkins gets stuffed on dunk and layup attempts?).
Oh, and memo to Ray Allen: The Celtics cannot beat the Lakers if you have another slump like you had for, well, pretty much the rest of the playoffs.
Bench play: The Lakers have a bunch of feisty young guns in Sasha Vujacic, Jordan Farmar and Luke Walton, and an insane energy guy in Ronny Turiaf. These guys are effective. Phil Jackson trusts them, and for good reason: In the Western Conference Finals, the reserves actually managed to cut into huge San Antonio leads while Kobe Bryant was on the bench. That's impressive.
Boston's bench, however, is filled with a couple of crusty old farts (Sam Cassell and P.J. Brown), a middle-aged (in basketball terms) dude (James Posey), a rabid gunner (Eddie House) and some kids (Tony Allen, Glen Davis and Leon Powe). Now, most of these guys made solid contributions during the season, but Doc Rivers hasn't actually set a playoff rotation yet...so I have no idea what to expect. From any of them.
Key(s) to the series: Boston's defense. L.A.'s offense. Tom Thibodeau's ability to come up with a Kobe-stopping scheme. The Celtics' ability to protect their homecourt. The 2-3-2 Finals format (i.e., if Boston loses Game 1 or 2, it's all over). Fatigue (the Celtics have had a harder road to the Finals than the Lakers; will it show?). Officiating (because there's bound to be at least one major, game-changing call that will piss everybody off). Destiny (is it Kobe's time to shine without Shaq, or will KG, Pierce and Allen finally win that elusive championship?).
Prediction: The Lakers have superior talent, superior coaching, and a superior system (The Triangle). The only thing they don't have is the homecourt advantage, and they'll probably have that after the first two games. So, you know, L.A. in five. Now, can somebody please, please kill me?