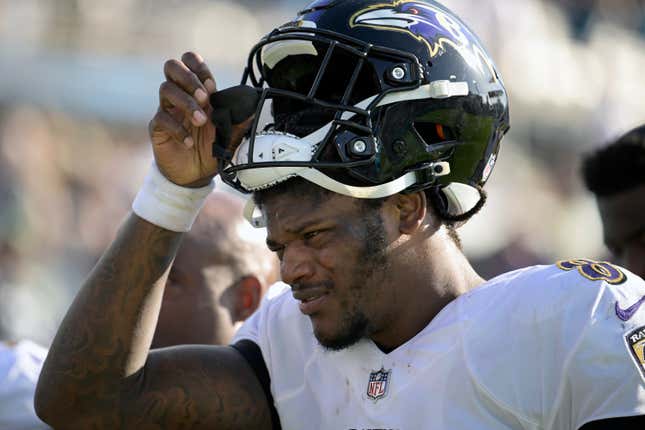 Poor John Harbaugh. All the man wants is the starting quarterback that was promised to him when the Baltimore Ravens moved up to select Lamar Jackson in the first round of the 2018 NFL Draft. Instead, five years later he spoke to the media on a Monday at the NFL League Meetings moments after his starting quarterback made public that he no longer wants to play for the Ravens.

On Mar. 7, the Ravens decided to place the non-exclusive franchise tag on Jackson after the two sides could not come to an agreement on a long-term deal. If he played under that deal this season, Jackson would have been guaranteed just over $32 million — far below what quarterbacks of his caliber are paid annually. For any team that desires to acquire Jackson, and is willing to sacrifice two first-round draft picks, they can make an offer that the Ravens have the right to match.
Lamar Jackson wants a trade, but Coach Harbaugh wants his 'precious'
Lamar Jackson wants a trade, but Coach Harbaugh wants his 'precious'
Harbaugh most certainly knew that the media would have a slew of questions for him about negotiations between the Ravens and Jackson. He has handled them deftly since 2021 when Jackson's draft classmate Josh Allen signed a deal that included the most guaranteed money of any player in NFL history — $150 million.
The Buffalo Bills did what most NFL teams do with star quarterbacks. They hammered out a contract extension before the start of the quarterback's fourth season. Jackson and the Ravens did not come to an agreement on a contract extension in 2021 — one season removed from his 2019 MVP — but Harbaugh was publicly confident then that a new deal was simply an administrative task that would be completed in due time.
In the days following the Ravens' hard-fought playoff loss to the Cincinnati Bengals that Jackson missed due to a knee injury, Harbaugh told the media that he was still "100 percent, 200 percent," about who is the Ravens' starting quarterback. During this year's scouting combine, he told the media that all conversations with potential offensive coordinators were centered around the candidates' plans to best deploy Jackson's skillset — they hired Todd Monken. Even when Harbaugh was hit with the news that Jackson made a public trade request his response was, "We're building our offense around [the] idea," that Ravens will not be making a change at starting quarterback.

Harbaugh even managed to paste a half-grin on his face while reacting internally in real time to the further deterioration of the relationship between the Ravens and Jackson. As many uncertainties as there are between those two parties, one thing I am certain of is that Harbaugh is as good as this country has to offer in middle management.
He is staying publically upbeat and damn near cheery about the last person besides Aaron Rodgers or Patrick Mahomes to win NFL MVP, entering his sixth NFL season still without a long-term deal. That's the type of relentless positivity that can find the good in non-crispy bacon or sugarless Kool-Aid.
Maybe he can keep that tiny grin up while the other team owners give Steve Bisciotti a thunderous round of applause at the big league-meeting party that they will "forget" to inform Jimmy Haslem of its address. The kings of professional sports can continue to stuff cash in their pockets like a money machine with no time limit. Sure the Ravens may have kneecapped their team for the next decade, but for now, the quarterback market has been stabilized.
And Harbaugh had better hope that his sunny disposition can keep the Ravens competitive enough for him to remain employed.