Your morning roundup for May 10, the day the gays were good enough for the Navy but not good enough for Uptown Sports Athlete Representation.
• Yeah, we're leading with MLS — deal with it. During a scrappy 1-1 draw this weekend, Red Bulls striker Luke Rodgers got into it with Landon Donovan. Afterwards, he had this to say (with our best guesses on the censored swears):
"In this league, he's a respected person, but he's telling Titi to fuck off. The kid's a dickhead. I don't care. I just think the kid's a fucking prick. I don't care what you put."
Donovan then Tweeted, "who is Luke Rogers[sic]?" If Don Garber is trying to manufacture a Galaxy/RBNY rivalry, (genitalia)heads are as good a jumping-off point as any.
G/O Media may get a commission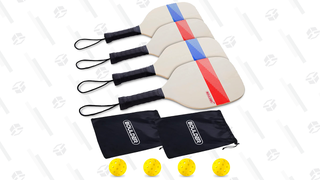 It's Pickleball
Pickleball Sets
• So where does one start with Memphis and OKC's 3OT slugfest that saw the Thunder tie the series up at 2? Is it the double-digit comebacks in regular, one from each team? The gametying three in the first OT from Greivis Vasquez, only because sharpshooters OJ Mayo and Mike Conley had fouled out? Instead we'll focus on how the Thunder seemed to get better with each frame, their young legs best prepared for the rigors of extra time, and perhaps two months of playoff basketball. More on this one later.
• It's almost enough to make one forget that Heat/Celtics was just as memorable, even if it did need only one puny overtime. A physical game (some might say ugly, some might say defensive) that gave us two takeaways: a Rondo missed layout and a Chris Bosh tip-in. Miami dominated in OT, and they're firmly in the driver's seat.
• After the game, LeBron apologized for calling a reporter's question "retarded" on Saturday. We forgive you, uneducated manchild.
• Vancouver finally knocked off those pesky Predators, which is a good thing if you're not ready to live in a world where Tennessee has two teams in their sports' finals. (Given the Titans, it would have been just the two.)
• The Eastern Conference Finals might have some odd scheduling, because the Tampa Bay Lightning have to take a back seat to Toy Story 3 On Ice at the St. Pete Times Forum. Intriguing...Marty St. Louis is already action-figure sized.
• Don't despair, Gus Johnson always lands on his feet. After not re-upping with CBS, a source has Gus going to FOX, and that's a good thing. Football Gus is also exciting Gus.
• Maryland's search to replace Gary Williams is over, settling on Texas A&M's Mark Turgeon. Check back in 22 years to see if he's a worthy successor.
• It turns out all Carl Crawford needed to get a big hit was to play the Twins. A walkoff double in the 11th inning extended his hitting streak to nine games — he's now up to .211.
• "Milton Bradley is like Wikipedia - the more you learn, the more you realize what you don't know, and never will."
• The latest sign Bulls fans are irrationally excited about this team: they're writing love letters to Kyle Korver.
• In triumphant postgame baseball interviews, they shove a pie in your face. In football, they dump Gatorade on you. But in soccer, they kick you in the head.
• 30 percent of Virginia Tech players were wearing helmet models that didn't provide the best protection, so the school went out and bought new ones. Sometimes, the obvious solutions are the best.
Recently On Deadspin
A few stories you might've missed.
Leglock Wedlock: This Bellator fighter KOed his opponent, and made an honest woman out of his girlfriend right in the middle of the cage, in front of god and everyone.
Inked: Andrei Kirilenko, he of the understanding wife, got a rather large new back tattoo. He now looks like a Manowar album.
Beachholes: An Olympic swimmer got himself in trouble in the sand. Most excitement Pompano Beach has seen in years.