David West surprised just about everybody when he opted out of the final year and $12.5 million left on his contract with the Indiana Pacers. Tonight he had an extensive sit-down with longtime Pacers reporter Bob Kravitz, and the upshot of the interview is that the Pacers organization is a low-rent operation, and team president Larry Bird is a prick.
West told Kravitz that the main reason he opted out was that he simply doesn't believe the Pacers can compete for a title. After earning $88 million across 12 years in the league, winning is far more important to money to him:
"At this point in my career, I just want to win," West told WTHR.com in an exclusive interview Wednesday night. "I'm just not sure the Pacers are in title contention right now. I'm going into my 13th season. I'll be 35 soon.
But it didn't help that the Pacers tried to pull a fast one on teammate Roy Hibbert. As the season ended, they tried their darndest to get Hibbert to forego his player option for $15.5 million, going so far as to publicly say that they planned on benching him if he returned. Hibbert opted in—he probably wouldn't have gotten $15.5 million as a free agent—and the Pacers' actions left a sour taste in West's mouth:
He thought it was a low-class move by the organization to, in his words, "throw Roy under the bus."
"That's one thing where I wish they would have handled better was the situation with Roy," West said. "I'll be honest with you, that bothered me a little bit, and I told Roy that. I'm the type of guy who feels like we're all in this fight together and I'm not designed in that way to put it all on one guy. That did rub me the wrong way. That threw me off. I started reading some of that stuff, I started thinking, 'Whoaa.' I just didn't feel good about that. I told Roy that it bothered me, that he's still my teammate.
G/O Media may get a commission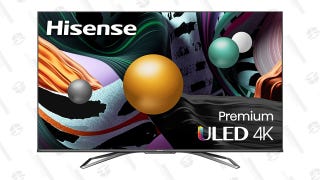 Save $350
Hisense ULED 65" Android 4K HDR Smart TV
And for his part, Bob Kravitz essentially calls Bird a lying bully. A day before the draft, Indianapolis Star reporter Candace Buckner reported that West wouldn't exercise his player option. But at the draft Bird told reporters that he had yet to hear from West's representation, and after they pushed him on the subject he made fun of Bucker:
"Anybody else got any stupid questions??" [said Bird, who] then pointed to the Indianapolis Star's Candace Buckner, who last week broke the news that West was opting out. "C'mon, Candace, I know you've got some (dumb questions) in you."
But according to West, he had his agent tell the Pacers "two, three days before the draft" that he would not be returning. As Kravitz writes, "So, um, somebody fudged the truth, and I'm not betting that it's West."
In the grand scheme of things, winning is mostly the only thing that matter. But the Pacers aren't winning right now, and even with a healthyish Paul George they aren't challenging for a title next season. When you're not winning, issues around the edge matter. There are only so many players in the league—and even fewer agents—and publicly showing them up, or making it look like they're liars, is bad business.
[WTHR]
---
E-mail or gchat the author: kevin.draper@deadspin.com | PGP key + fingerprint | Photo via Getty