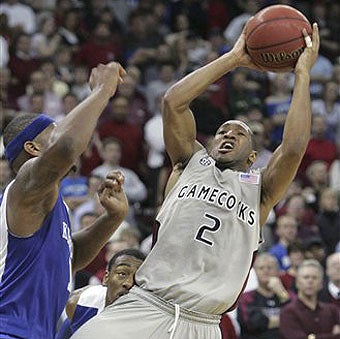 In sports, everyone is a winner—some people just win better than others. Like South Carolina's Devan Downey, who out-Walled John Wall and continued to make it dangerous to be the No. 1-ranked team. Cocks.
Downey already had four 30-point games this season and leads the SEC in scoring, but there's something about coming up big in the biggest game against the biggest team that can artificially inflate your NBA draft status. Downey, a senior, threw himself all over the court, hurling up circus layups and insanely high bank shots and at least one heroic three-point play that proved it just wasn't Kentucky's night. Now, even if the Gamecocks remain mired in the SEC basement at least he's "IN THE CONVERSATION." He really was incredible, actually.
The freshman Wall, meanwhile, had a very telling moment late in the game when he was blocked on a sure thing layup, pouted instead of getting back on defense, then needlessly shoved a Carolina player in a half-hearted effort to intentionally foul. I don't want to sound like one of those grumpy old white men who says that kind of entitled, lackadaisical attitude that seems to be encouraged by John Calapari will eventually be his team's undoing, but ... well, that's what I'm saying. When the chips are down, Kentucky will fold.
Morris: Downey stamps his name in USC history [The State]
Honorable Mention: Kalin Lucas, Escape Artist. And yes, the new logo is stupid.