In sports, everyone is a winner—some people just win better than others. Like sportswriter John Feinstein, who badgered a hapless NCAA VP yesterday over tournament expansion and thereby became a hero to anti-expansionists for all the wrong reasons.
The NCAA's press conference yesterday amounted to little more than a Tupperware demonstration of the locked-in freshness and burping seal of a 96-team tournament (about which Dash will have more later). Feinstein, the Washington Post columnist, was in attendance, and he was not having it. He was particularly exercised by the idea that, under the NCAA's proposed 96-team model, some players would have to sacrifice an additional week of classes for the tournament. Here's a transcript of his exchange with the NCAA's senior vice president of basketball and business strategies, Greg Shaheen:
Q. Basically they'll be out of school an entire week the second week?
GREG SHAHEEN: Actually, if you were to look at the window for each individual team, you have to take each team and contemplate the fact right now you have half the field leaving campus on Tuesday, returning on Sunday or Monday.

Q. If they lose. I'm talking about the teams that win in advance. You're going to advance 16 teams.
GREG SHAHEEN: No, actually in the current model you have teams that depart on Tuesday, and even if they win, return on Sunday.

Q. We're misunderstanding each other. Under the new model that you laid out, you play 64 teams Thursday/Friday. 32 advance to games Saturday/Sunday. Then you are down after those games to 32 teams.
GREG SHAHEEN: Right.

Q. You're saying you play games in the round of 32 Tuesday/Wednesday. They would then advance to regionals when?
GREG SHAHEEN: They would continue into the regional as it's normally scheduled now.

Q. So they would go Tuesday to Thursday, Wednesday to Friday?
GREG SHAHEEN: Right.

Q. So they miss an entire week of school. That's what I'm trying to get.
GREG SHAHEEN: If you listened to my original answer, they leave now on Tuesday.

Q. I'm talking about the second week, not the first week. They play a game Saturday/Sunday, play a game Tuesday or Wednesday, then go directly to the regional. Tell me when in that second week they're going to be in class.
GREG SHAHEEN: The entire first week, the majority of the teams would be in class.

Q. You're just not going to answer the question about the second week. You're going to keep referring back to the first week, right? They're going to miss the entire second week under this model.
GREG SHAHEEN: So they're going to go to school the first week, and then they're —

Q. They're going to be under the same schedule you said basically the first week, and then they'll miss the entire second week.
GREG SHAHEEN: I'm clearly missing the nuance of your point.

Q. You and I miss nuances a lot. Thank you.
BOB WILLIAMS: Next question, please.
(The transcript does not reflect that, during the above exchange, Feinstein also wrote and published five books for Random House about golf.)
As much as I love to see the guy on the dais getting hugely tangled in Feinstein's questions, the fact that this is being held up as a heroic line of inquiry suggests that the battle has already been lost. There's a very compelling case to be made against the expanded field, but it's not going to be made by shedding a few crocodile tears over the NCAA's further compromising of the long-ago-compromised scholastic lives of college athletes. Feinstein is summoning all this frogs-and-locusts outrage over, what, a single week of phys ed classes? Another week with the dorm-floor bong? Do these people even remember college? Besides, the whole "but what about the book-learnin'?" argument only serves to buttress the enormous festering lie at the heart of the NCAA that there is a functional academic component to major college sports to begin with. Shaheen may have looked foolish yesterday, but I can guarantee the NCAA is privately thrilled that the best Feinstein and Co. can muster is a bunch of tired old pieties about school. "Pay more lip service to academics!" Feinstein, in effect, is asking. Meanwhile, maybe for the first time ever, the NCAA is being perfectly honest about its motivations. Here, via John Gasaway, is a bylaw review (pdf) by the NCAA's Division I/Championships/Sports Management Cabinet. Please turn to page 3, under the bold-faced heading "Revenue Generation":
1. Evaluate criteria for determining sites, not just reduce flights but weigh that against possibility of generating revenue.
2. Consider bracket expansion for men's basketball (to generate more money).
G/O Media may get a commission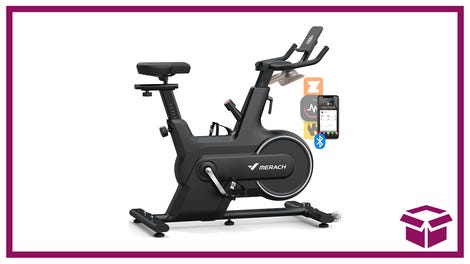 14% off + Coupon
Merach Indoor Cycling Bike