In sports, everyone is a winner - some people just win better than others. Like Philly's desire to Taser this copycat attention whore who ran onto the field, which is actually better than he deserves.
Two nights ago, it took until the morning to identify the 17-year old kid who was on the receiving end of 1200 volts. But last night's mob justice took just minutes to figure out who this fool was. Why?
He announced it on his Twitter before he did it.
This must have seemed like a good idea to 34-year-old Thomas Betz, aka "Thorobred," an aspiring DJ from Warminster, Pa. (Note: once you're 34, you're no longer an "aspiring" anything.) Steven Consalvi has become something of a folk hero, for his transgression the night before. Betz probably figured he would get the same attention, and it would launch his music career.
G/O Media may get a commission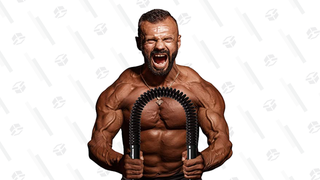 10% off
Zenooze Boa Power Twister
Or maybe he didn't think any of it through, and it was more the result of the drugs found on him, which he was charged with in addition to the usual litany of disorderly conduct and trespassing. Hey, at least a criminal record will give his music street cred now, right?
Betz didn't count on one thing in his quest to be famous. As much as Philly fans like dumbasses being dumbasses, they like baseball more. So he couldn't have picked a worse time to run on the field than in the ninth inning of a 1-0 game.
The crowd wasn't having any of it, booing, throwing beer at Betz, and chanting for the Taser (it was not used this time). Cole Hamels, clearly shaken, gave up back-to-back doubles, losing the shutout and the complete game.
In a way, Betz is lucky. The Phillies won the game in the tenth, making him a footnote. Had they lost, drunken mobs would have commandeered the Taxi Crab, stormed the jail where he was being held, and made him wish for a nice clean Tasering.