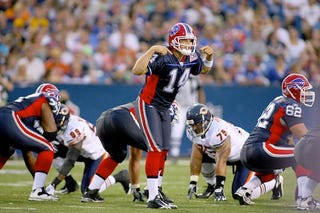 Players votes count for a third of Pro Bowl balloting, and Terrell Suggs's ballot counts for 1/1696th of that. But by voting for Ryan Fitzpatrick (and more relevant, leaving off Tom Brady), he's making a statement.
That statement being "I don't like Tom Brady." It's natural to see a rivalry between the passer and the pass-rusher on two elite teams in the AFC, but shit is serious. Suggs has ragged on Brady for his celebrity marriage and his whining. Brady famously fired back with ""They talk a lot for only beating us once in nine years."
Love it. So when Yahoo's Michael Silver got some time with Suggs on Monday, he had to ask who Suggs was voting for at QB on his Pro Bowl ballot.
Philip Rivers," he answered. "Peyton Manning."

He paused for effect.

"And Ryan Fitzpatrick."
We assume this has less to do with Fitzpatrick's significant lead in rushing yards over Brady, and more to do with the fact that Buffalo plays New England on Sunday. And hey, even if dark horse candidate Fitzpatrick somehow makes it to Honolulu, it'd be less of a travesty than Yao Ming being voted an All-Star starter.