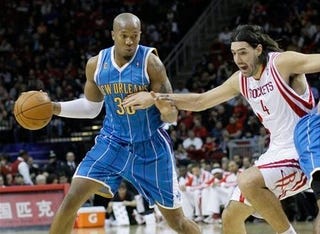 In sports, everyone is a winner—some people just win better than others. Like the two talented New Orleans Hornets who had monster games last night. The rest of their team may stink, but at least those guys looked sharp.
Chris Paul had a triple double against the Rockets last night, but he wasn't even the fanciest lad on his own team. David West also put up 44 points (a career high) and 12 rebounds. Oh, and the Hornets lost by eight. I think it's safe to say that they didn't get a lot of help.
Now, a pessimist might say that if these guys weren't such stat-hungry ballhogs, the rest of the team might feel compelled to get involved. Another, slightly different, pessimist might complain that two exciting young players are wasting their youth on an undeserving franchise. An optimist would be waiting in line for Saints playoff tickets.
Honorable Mention: John Wall has definitely had the best first half of one year of any Kentucky Wildcat in history who has played for John Calipari.