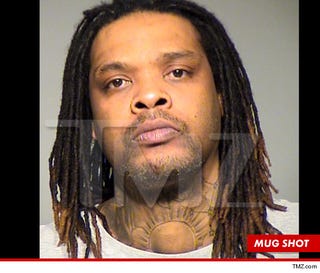 How was your New Year's Eve? Good? Good. Bet you got down. Bet you rocked out to some jams. Bet you waited at least until it got dark to start partying. Latrell Sprewell didn't wait. After neighbors called about music blasting from a house in east Milwaukee Monday afternoon, police arrested Sprewell and charged him with disorderly conduct.
Police said they had received two noise complaints within an hour of each other, and had received numerous complaints over the preceding months. Sprewell was booked into jail at 4:15 p.m. Monday, and quickly bonded out.
Sprewell is from the Milwaukee area, and moved back after retiring from the NBA in 2005. Since then, his home has been foreclosed upon, his yacht auctioned off, and he's been named Wisconsin's biggest tax deadbeat. Go on and lose yourself in the music, Spree.
Update: Mug shot provided by TMZ.